When we were in the UK, we attended a couple of Premier League matches.  I've already written about our trip to Manchester to see City vs Sunderland.  Now it's time to write about the second match that we saw 27 hours later: Tottenham vs Aston Villa.
This match was a special moment for a member of the founding team.  Matt is a Tottenham Hotspur fan, and he's as big a fan of the side as you can get without having seen an official Spurs match in person.  (He did travel to Baltimore for their preseason match against Liverpool.)  I mean, he's even "walked" around White Hart Lane on Google Maps!  Tickets for the match were hard to come by, and even more so if you are not a member of the club.  Matt was resourceful enough to sign up as a club member and then purchase tickets, so we were set.
We took the tube and Overground trains to get to the White Hart Lane station…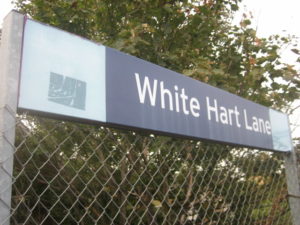 Then we followed the flood of football fans to the stadium.  It's a very heavily ethnic Turkish neighborhood.
From the moment you approach White Hart Lane, you know you are at one of the traditional football grounds in England.  There is enough room at the spectator entrance for one — and only one — person at a time, and the opening was created at a time when Englishmen were much narrower than they are today.  It's an old ground with all of the smells and residue of years gone by.  The concourses are narrow and cramped.  And no, I didn't visit the toilets.
When you reach the top of the steps and enter the stands, two things hit you: the intensity of the sound and the proximity to the pitch.  In contrast to Etihad, all four stands are inclined at a very steep angle.  This is the view from the very top row of the main stand, where we sat:
Etihad has a roof, but at WHL the closeness of the supporters combined with the roof results in a more intense atmosphere.  I would not be surprised if it's the same at Anfield, Old Trafford, or Goodison Park (or St James' Park).
There was a lot of tension surrounding this match because Spurs, despite having won three League matches in a row, were still trying to settle under André Villas-Boas.  Aston Villa weren't playing very well — still aren't — but they were keeping it 0-0 for an uncomfortably long time.  The big news was that Brad Friedel's long streak of consecutive starts in the Premier League came to an end as Hugo Lloris saw his first start.
After a scoreless first half, and not a small amount of frustration from the Spurs fans, goals from Steven Caulker and Aaron Lennon brought relief:
The final score was 2-0, a fair reflection of the difference between the two sides.
And now it's time for some post-match souvenirs:
It was another memorable day out at the football, and I look forward to future visits to other grounds in England.