While we were in the UK, we had the opportunity to attend a couple of English Premier League matches.  I thought it would be fun to share our experience and pictures with our readers.  Below is Part I:
The Leaders Sports Summit is scheduled on an international weekend.  Last year I arrived a couple of days before the conference, so the only opportunities to watch a football match were in League One and below.  I ended up travelling to the Valley to watch Charlton Athletic vs Tranmere Rovers, which was actually a nice place to watch a match.
This year I wanted to experience a Premier League match for the first time, and Matt was eager to see his beloved Spurs for the first time in an official match, so we arrived early enough to see the last weekend of matches before the international break.  As it turned out, we were fortunate to be able to view not one, but two Premier League matches in a two-day period.  The first match was Manchester City vs Sunderland which had a 12:45pm kickoff, so we took a fast train to Manchester: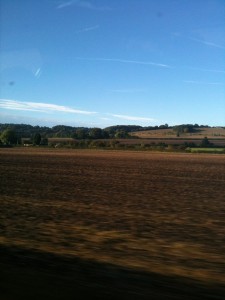 The English countryside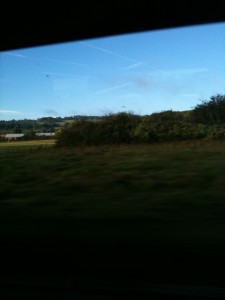 Another view of the English countryside
Etihad Stadium is about a 20-minute walk from Manchester Piccadilly station along the canals.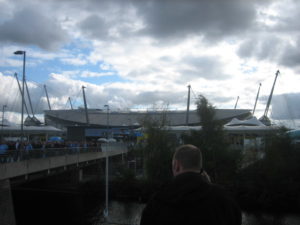 Etihad Stadium was the City of Manchester Stadium, which was previously used for athletics and rugby events of the 2002 Commonwealth Games.  It's very apparent that the stadium used to have a track.  We had seats on the lower bowl yet it felt like we were so far away.
It's a very modern stadium with wide concourses and large murals that had recollections from City ticket-holders of their first ever City match.  There were also some other exhibits that demonstrated City's commitment to fan engagement.  I didn't see the scrolling board of live MCFC tweets that I had heard about — is it still there?  The restrooms were clean for a stadium venue.  The concessionaries sold typical English stadium fare such as burgers, hot dogs, pies, beer, and yes, Bovril.  One complaint about the stadium was that there was not a single cash machine to be found, and none of the concession stands accepted bank cards.  I was told that the lack of cash machines were typical, but I thought I had seen them at the Valley, and cash machines are common at US sports venues.  (It was hard to find cash machines that accepted US bank cards — our cards don't have the embedded chip in them.)  Another complaint was that while the seats were comfortable, the seat pitch was too narrow, but then again the world's not built for 194cm guys like me!
As for the match, it was a one-sided affair.  An early Kolarov free kick…
Agüero comes on from Balotelli (who was getting major stick from the spectators around me) and gives immediate rewards…
and Milner finishes it off with a well-taken free kick.
A good day out and a great experience at Etihad.  Everyone from the stewards to the surrounding fans was friendly to us and curious as to our impressions of the match.  Thanks to all who made this trip possible!
We returned to London that evening and the following day we set out for Part II of our Premier League experience.  I'll write about that in a future post.