The Spanish Primera — La Liga — premieres this weekend, and the Segunda starts tonight.  So it's a good time to present our league projections for 2013-14.
Segunda División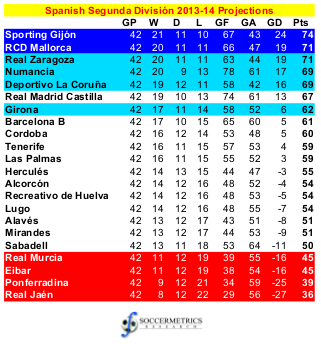 We project that Sporting Gijón will be promoted to the 2014-15 Primera as champions.  Mallorca and Real Zaragoza will be involved in a two-way fight for promotion according to our Pythagorean expectation, and it's very possible that automatic promotion is decided on head-to-head tiebreakers.  The division has a four-team playoff group to decide the third promotion place, but reserve teams like Real Madrid Castilla and Barcelona B are ineligible.  So when you discard those two teams, either Mallorca or Zaragoza, Numancia, Deportivo La Coruña and Girona are projected to go to the playoff.  There isn't much of a gap between Girona and clubs like Córdoba, Tenerife, or Las Palmas, so they shouldn't be forgotten.
At the lower end of the table, four teams go down.  We expect those four to be Real Jaén, Ponferradina, Eibar, and Real Murcia.  Murcia were saved from relegation when Guadalajara were relegated administratively by the LFP, but they may not be saved this time.
Primera División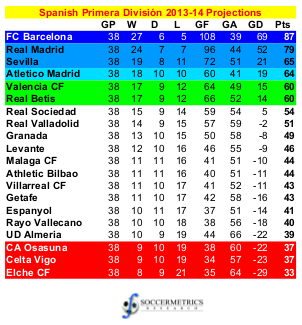 We expect Barcelona to repeat as Spanish champions by somewhere between six to ten points over Real Madrid.  Those two are the only ones who have a chance at the title; our simulation reveals a 14-point gap between Real and the pair of Sevilla and Atlético Madrid.  We expect those two teams to decide third place and the direct berth into the Champions League group stage.  Valencia and Real Betis should grab the Europa League places and Real Sociedad will miss out on Europe altogether barring a Spanish Cup win.
At the lower rung of the table the game is all about survival, and 39-40 points should guarantee safety.  Based on expected goal statistics we expect Elche, Celta Vigo, and Osasuna to drop to Segunda.  In general, the promoted sides should do well this season — Almería may just finish outside the relegation zone but Villarreal should finish mid-table.