We now move into projecting the league outcomes for the English leagues, and we start with the three divisions of the Football League below the Premier League. The season kicked off last weekend, but the projections aren't going to be affected by one match.
Again, if you want to know how we did these projections, consult this post.  The results are a little different from Aaron Nielsen's post because of the Pythagorean expectation being applied.
Football League Two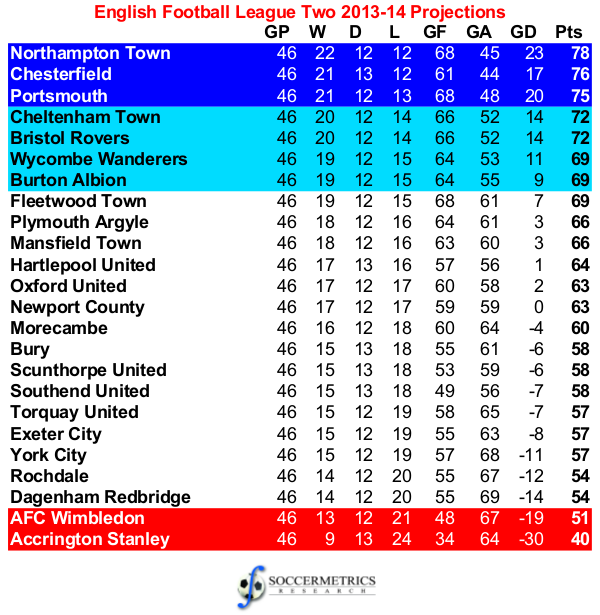 We project that Northampton Town will be promoted to League Two as champions, with Chesterfield and Portsmouth joining them.  In the playoffs we predict Cheltenham Town, Bristol Rovers, Wycombe Wanderers, and Burton Albion.
At the bottom of the table, Accrington Stanley and AFC Wimbledon appear likely to drop down to the Football Conference National.
Football League One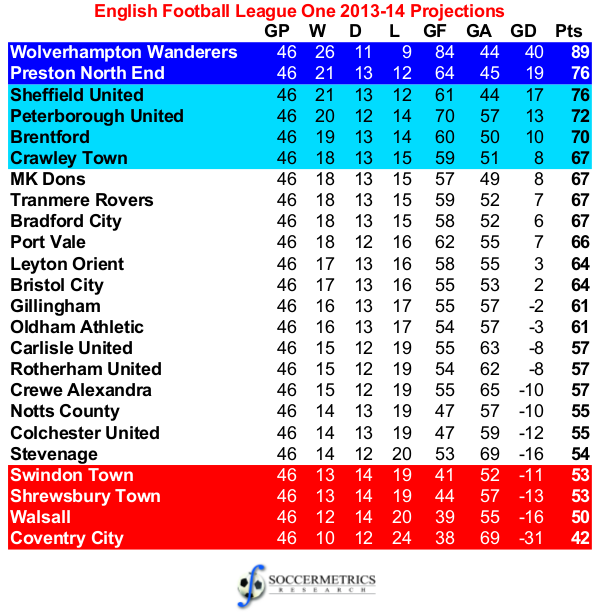 We predict that Wolverhampton Wanderers will bounce back to the Championship as champions of League One by a wide margin. Preston North End or Sheffield United will contend for the second automatic promotion place.
The loser of those two sides would end up in the promotion playoffs, to be joined by Peterborough United, Brentford, and one of Crawley Town, MK Dons, Tranmere Rovers, and Bradford City.
Coventry City were in a bad state even before they entered administration, and the FA's points deduction will doom them to League Two.  Walsall, Shrewsbury Town, and Swindon Town are expected to join them, so there could be at least two former Premier League sides in the lowest division of the Football League in 2014-15.
Football League Championship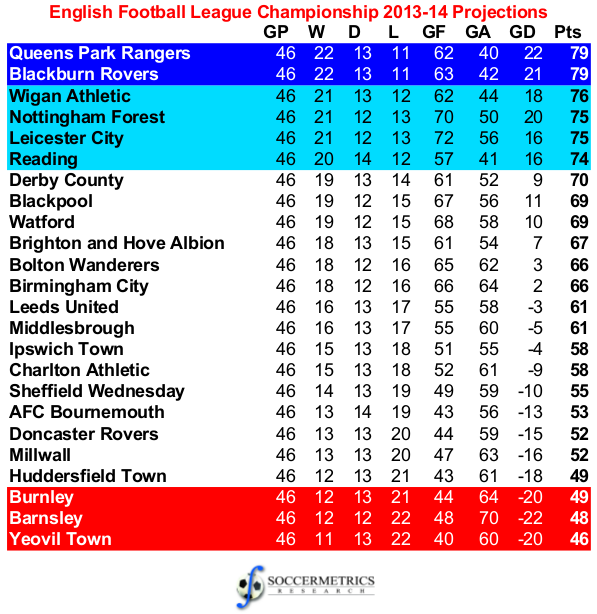 Based on the projected statistical outcomes of the current squad, we project that Queens Park Rangers will make a quick return to the Premier League as champions of the Football League Championsip. Blackburn Rovers will join them without having to go through the playoff gauntlet.
Wigan Athletic, Nottingham Forest, Leicester City, and Reading are projected to finish in the playoff places, with Derby County, Blackpool, and Watford with perhaps an outside chance.
At the bottom of the table, we predict that Yeovil Town, Barnsley, and Burnley will make the drop, but Huddersfield Town, Millwall, Doncaster Rovers, and maybe Bournemouth could get drawn into a relegation scrap.