It's time to put forward our league projection for the 2013-14 Barclays Premier League.  Once again, these projections are a combination of expected goal statistics based on statistical output in previous seasons and the current squad (thanks to Aaron Nielsen) and a Pythagorean projection of team records based on expected goal statistics.  So here's how the stats say the final table will end up: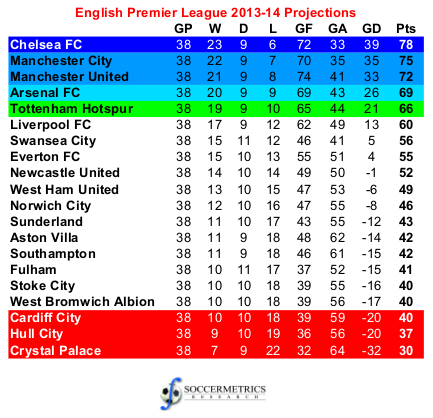 We project that Chelsea will win the 2013-14 Premier League in a close contest over Manchester City, with Manchester United a few points further behind.  Many analysts are viewing the League as a three-team race between those teams, and that's what we're seeing when we look at our projected squads. That three-point gap means that we shouldn't count City out of the title race, but we'd expect Chelsea to win.
Qualifiers for the Champions League will be Chelsea, City, United, and Arsenal, who we expect will once again pip Spurs for fourth place on the strength of their goalscoring ability (Giroud, Podolski, and Walcott).  Of course, this assumes that Spurs manage to hold onto Bale; if they don't, they will almost certainly drop out of the top five.  If Arsenal manage to sign Suárez (not looking likely at this point), they could become outside challengers for the title.
Outside of the European zone there is a gap of 20 points between sixth-placed Liverpool and 17th-placed West Brom. You could divide mid-table into an upper tier (Liverpool, Swansea, Everton, and Newcastle (backroom issues aside)), a lower tier (Sunderland, Aston Villa, Southampton, West Brom, Fulham, and Stoke), and two teams in West Ham and Norwich City who could play themselves in either one.  In my opinion, it's more likely that they will be in the bottom half than the top one.
At the bottom of the table we predict that Cardiff City, Hull City, and Crystal Palace will be relegated back to the Football League Championship.  It could be the second time that all of the promoted sides in the Premier League have gone straight back down, but it's possible that West Brom, Stoke, and maybe Fulham will be drawn into the relegation battle.
So there's how we see the Premier League turning out.  We look forward to being proven spectacularly wrong!