Goalkeepers of Superliga Argentina 2018/19: Andrada and Aguerre thrive in new environments
Categories: Goalkeeping Analytics
As Superliga Argentina returns to competition from its summer break, who were — statistically — the best goalkeepers in terms of actual and expected saves and goals allowed?
For this analysis I consider all goalkeepers who appeared in a minimum of 630 minutes in the league, or seven full matches. Goalkeepers in general play a lot more minutes than other field players, but all Superliga 18/19 clubs have at least one goalkeeper who has appeared for a minimum of 630 minutes.
The first table displays actual and expected saves and goals allowed per 90 minutes for every goalkeeper above the 630 minute cutoff. The table is sorted on actual goals allowed per 90 minutes.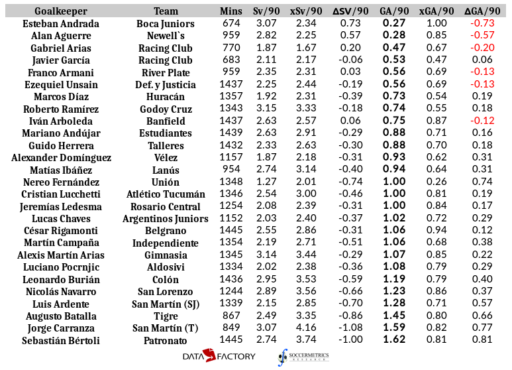 This list is headed by Esteban Andrada, who transferred from Lanús to Boca Juniors for a large fee at the start of the season and supplanted Agustín Rossi. He had some excellent performances for Boca before he fractured his jaw in a Copa Libertadores match and became unavailable for a month. Accompanying him on the list is Alan Aguerre, who transferred from Vélez to Newell's during the off-season, became the first-choice 'keeper, and also distinguished himself with some excellent performances.
One question that jumps out upon seeing that chart is, how do Aguerre and Andrada have close to 1.0 xGA/90? Neither 'keeper has faced a high volume of shots this season (33 for Aguerre, 25 for Andrada), but both have multiple matches in which the number of expected goals allowed exceeds the actual total by more than 1.0 goals (four times for Aguerre, three times for Andrada). I see it as a combination of an excellent save percentage and relatively few matches played. Of course, it's also necessary to understand how both 'keepers are positioned when facing a shot on goal, and with the current data set we're just not able to know that.
The second table displays the goals allowed above expected (GAAx) along with shots on goal and actual/expected saves and goals allowed. The table is ordered on GAAx in ascending order. As in golf, red numbers are good.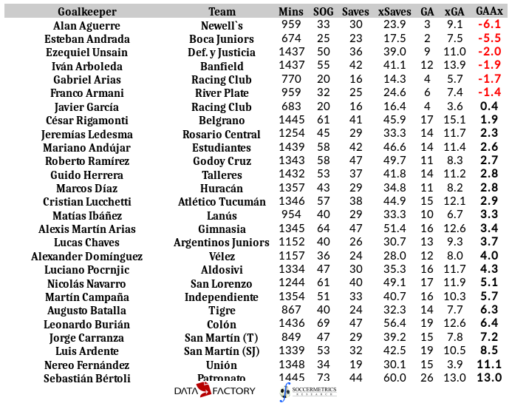 Again, Aguerre and Andrada head the charts, which is what you would expect given that both also lead the league in GA/90. It is interesting that allowing significantly fewer goals than expected does not necessarily translate to higher positions in the league table. It could, however, make the difference between a current position and a much worse one. (David de Gea's recent seasons at Manchester United should immediately come to mind.)
The act of allowing fewer goals less often is a significant part of assessing goalkeeper quality, but it's not everything. There is also positioning on set-pieces, ball distribution, and defensive interventions that prevent a shot from being attempted. My data set won't be able to answer all these questions, but in the near future I'll present results from other models that will attempt to explain a goalkeeper's contribution to the possession and chance creation of his team.