The State of Play in Superliga Argentina 2018-19: Back from the Break
Categories: League Competitions
Argentina's Superliga returns from its short summer break in earnest this weekend. (It had a return of sorts last weekend with a couple of matches from its backlog of postponed matches due to international commitments.) What does the league table look like, who have been the major performers, and what is likely to come after an extremely active transfer period?
Let's start with the table as of the end of 2018: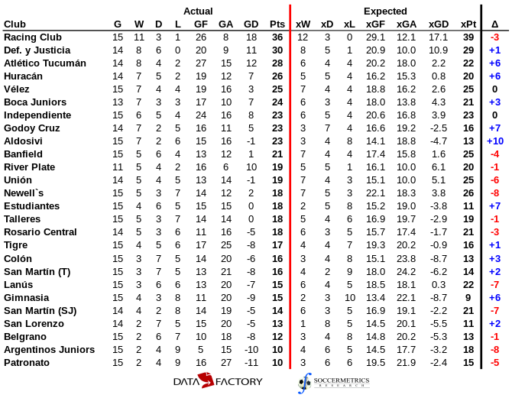 Actually, the league table is even tighter at the top — just three points — after Defensa y Justicia's 1-0 victory at River last Saturday. They're followed by a very surprising and very impressive Atlético Tucumán side, a no less impressive Huracán, and a very pleasantly surprising Vélez Sarsfield. Aldosivi's white-hot start to the season was never sustainable, but they've done extremely well in escaping the clutches of relegation.
Further down the table we see two-time defending champions Boca Juniors and current South American champions River Plate, the Santa Fe sides, and the Rosario sides. At the bottom we see recent champions that have really struggled of late such as Lanús and San Lorenzo, and finally Belgrano, Argentinos, and Patronato propping up the table.
The expected goal scatter plot reveals a couple of things: Racing's dominance, and the porous defense of many of the Superliga teams. Eleven of the sides find themselves in the upper-left quadrant that represents the teams with worse-than-average xG/90 and xGA/90, including two of the sides in the relegation zone (San Martín de Tucumán and Belgrano). Five teams have better-than-average xG/90 and worse-than-average xGA/90, including the other two teams in the relegation zone (Tigre and Patronato). It is possible to have a decent defense and struggle due to a lack of offensive punch, which has been happening to Argentinos, and just as possible to have an excellent campaign on the strength of a stout defense (Unión de Santa Fe). The lower-right quadrant of teams with better-than-average xG/90 and xGA/90 is the most envied, and it's no surprise to see the leaders Racing and possible contenders Defensa y Justicia there.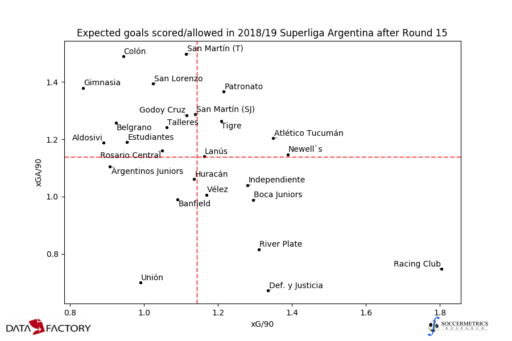 I haven't written much about expected assists with respect to the Superliga (I need to write something about my own personal struggles with building an expected assists model), but I'm going to start here with a list of the top twenty players in terms of combined expected goals and assists. I believe the expected assist numbers make some sense, but I recognize that people compute them differently. (The official assist totals vary by the data provider, and sometimes widely.)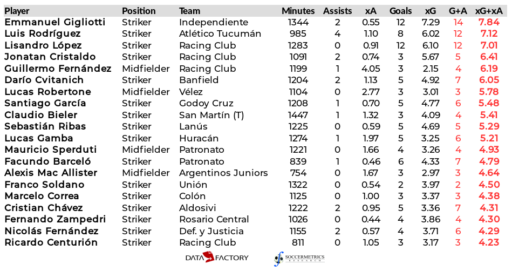 As you might expect, the combined totals are dominated by players with high expected goal figures, who in this competition are also among the top actual goal scorers. You see Gigliotti and Pulga Rodríguez at the top, as well as Lisandro López. The top midfielder on the list is Racing's Guillermo Rodríguez, who appears to be very good at putting the ball in dangerous positions. Further down the list you see old reliables such as Cvitanich and promising young talents such as MacAllister.
This chart is also nice to look at because it communicates just how difficult it will be for certain clubs to backfill departing talent. Gigliotti is now playing in Mexico, and Rodríguez has since transferred to Colón. Cvitanich has also moved on from Banfield. At least Argentinos will be able to hold on to MacAllister for the second half of the season! So the second half of the season may look very little like the first. I'll go into more detail in a later post, but as I wrote at this time last year that it was Boca's title to lose, this time it's Racing's title to lose.