Superliga 18/19 Record
Won 3, Drawn 14, Lost 8 (23 points)
Superliga 18/19 Position
23rd
Relegation Average
1.536 (126 points/82 matches)
Relegation Position
7th
Copa de la Superliga Result
Lost in Quarterfinal to Argentinos
Juniors (1-2 agg)
Goals Scored
(own-goals not included)
21 (14 open, 6 set-piece, 1 penalty)
Goals Allowed
(own-goals not included)
29 (26 open, 2 set-piece, 1 penalty)
Leading Goal Scorer
Nicolás Blandi (7 goals)
Leading xG
Nicolás Blandi (5.00 xG)
Leading xA
Rubén Botta (2.53 xA)
Primary Goalkeeper
Nicolás Navarro
(1.23 GA/90, +5.1 GAAx)
Team Disciplinary Record
58 yellows, 6 reds
San Lorenzo could neither defend nor score, and for those two reasons they finished near the foot of the Superliga table. Los Cuervos generated close to 2.0 xG on opening weekend against Tigre, but it took six months for them to approach that figure again. Both matches finished in draws, one of which ended goalless. On only one occasion did San Lorenzo win a match in which they had an advantage in expected goals. San Lorenzo's fortunes improved in the Copa Libertadores, but the lack of league form, punctuated by a 13-match winless streak, ended up consuming the two managers in charge.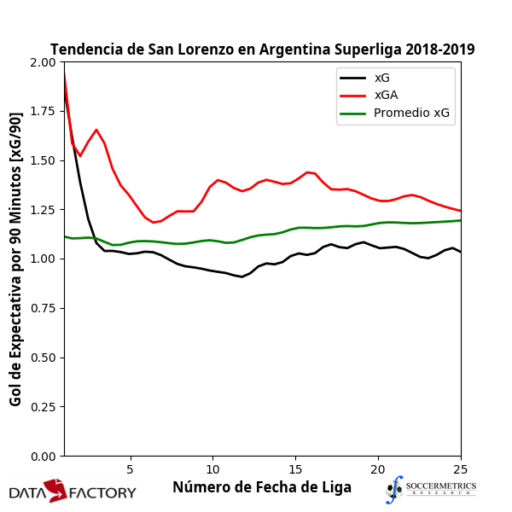 Managers: San Lorenzo had two long-term managers during the season.
The first was Claudio Biaggio, who led the team from opening day to the 2-1 loss to Racing on matchday 10 (matchday 7 was postponed). Biaggio's record with San Lorenzo in 18/19 was not a good one; his team won two and drew four of the nine matches. The goalscoring record was actually decent as San Lorenzo's scored 2.7 more goals and allowed 0.55 less goals than expected. Biaggio made 37 squad rotations over his nine matches, or just over four rotations per match.
Biaggio resigned his position, and, after a one-match caretaker role by Diego Monárriz, Jorge Almirón became the second manager of the season. Almirón had won a league title and advanced to the Copa Libertadores final with Lanús but more recently had managed Atlético Nacional in Colombia. Under Almirón, San Lorenzo became the draw kings of the Superliga as they saw victory just once and achieved ten stalemated results. Their defensive performance was slightly ahead of statistical expectations, allowing 15 goals from chances worth 18.3 xGA. It was their offensive performance that went off a cliff, as los Cuervos scored just nine goals from scoring opportunities worth 17.7 xG. Almirón proceeded to chop and change with greater frequency than his predecessor. He made 68 squad rotations over his 15 league matches, or just over 4.5 swaps per match.
Formations: Claudio Biaggio set his San Lorenzo players in a 4-4-2 with a double pivot. Jorge Almirón preferred to play a more attacking 4-3-3. Neither manager played the same lineup more than once during the season. In fact, no collection of players — whether lineups at the start or after substitutions — appeared more than once. The starting lineup from the opening week match against Tigre was together for 78 minutes, which turned out to be the longest than any collection of players was together on the field.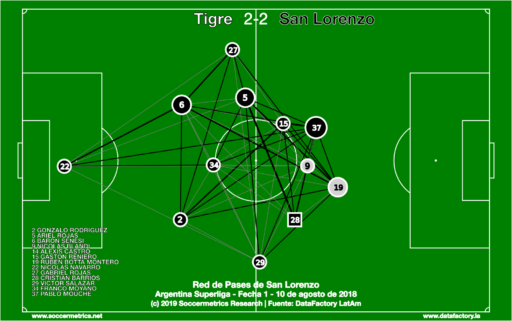 San Lorenzo, in 2018/19, were a classic case of a team that engaged in useless possession. They were fourth in total possessions per match and on-ball time. Only two other sides — Racing Club and Defensa y Justicia — took more passes per possession. But San Lorenzo finished in the bottom five in the percentage of possessions with one shot and non-penalty expected goals. San Lorenzo appeared to give up a lot of chances in transition: opposing teams took less time to launch a shot in possession against San Lorenzo than any other side.
Expected Play: San Lorenzo, with one or two big exceptions, were poor in offense. They were in the bottom third in total shots and total goals, and their total 1.03 xG/90 was the fourth-worst in the division. More critically, their 0.45 xG/90 from open play was bottom among all Superliga teams. Defensively, San Lorenzo finished in the lower half in terms of total shots allowed and total expected goals allowed. Other teams that finished well above them, such as Huracán, Atlético Tucumán, and Tigre, had worse defenses in terms of xGA. But San Lorenzo allowed more chances from open play (0.68 xGA/90) than all but five teams, three of which were relegated.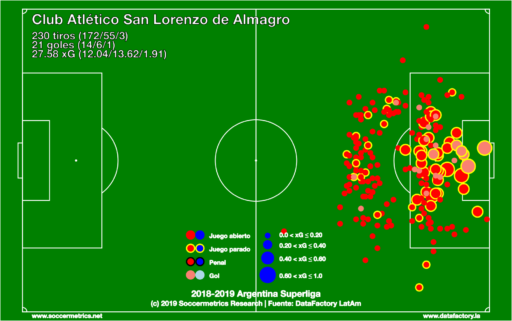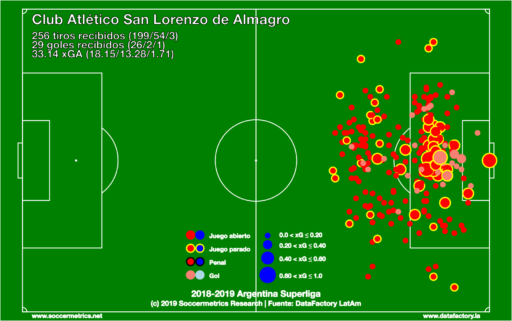 Nicolás Blandi generated the highest total xG on the team with 5.00 xG, but Gastón Reniero created more xG from open play (2.37 xG vs 1.84 xG for Blandi). Blandi was much more of a threat from set pieces, with 2.54 xG from those situations, and he scored two actual goals from set plays.
San Lorenzo had multiple players who created more than 2.0 expected assists — Reniero (2.00), striker Rubén Botta (2.53), and midfielder Fernando Belluschi (2.51). Belluschi was the greatest threat on the team from free kicks and corner kicks, and ranked within the top 30 and 40 overall in both respective categories. Pablo Mouche also represented a threat from dead-ball situations despite playing relatively few minutes.
The primary goalkeeper for San Lorenzo was Nicolás Navarro, who played 1245 minutes. Navarro allowed 1.23 goals per 90 minutes, 5.1 more goals than expected, with one clean sheet. Other goalkeepers who saw play were Fernando Monetti (647 minutes), Sebastián Torrico (409), and José Devecchi (96). Both Monetti and Torrico achieved more clean sheets than Navarro — two and three, respectively.
Best Match: San Lorenzo 3-2 Patronato on matchday 6. There were other matches in which el Santo created more and better scoring chances. But this match featured San Lorenzo's highest xG in a match that they won. After this match, San Lorenzo would never reach this high in the league table for the rest of the season.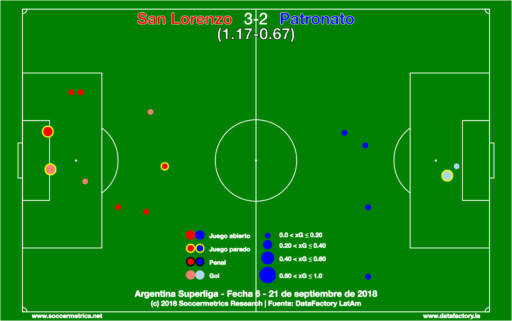 Worst Match: Boca Juniors 3-0 San Lorenzo in matchday 22 was el Santo's worst result of the season in terms of real and expected goals. It also sealed Jorge Almirón's fate.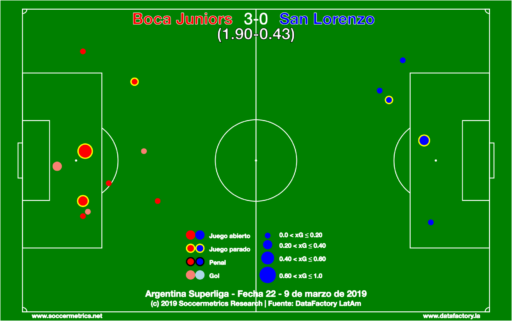 Best Player: Nicolás Blandi, whose goals and contributions were one of the few bright lights on San Lorenzo's bleak league season.
This review has been prepared with match event data supplied by DataFactory Latinoamérica.