Superliga 18/19 Record
Won 4, Drawn 11, Lost 10 (23 points)
Superliga 18/19 Position
24th
Relegation Average
1.378 (113 points/82 matches)
Relegation Position
12th
Copa de la Superliga Result
Lost in First Round to Tigre (2-3 agg)
Goals Scored
(own-goals not included)
20 (12 open, 4 set-piece, 4 penalty)
Goals Allowed
(own-goals not included)
31 (20 open, 9 set-piece, 2 penalty)
Leading Goal Scorer
Leonardo Heredia (5 goals)
Leading xG
Javier Correa (3.37 xG)
Leading xA
Matías Fritzler (2.09 xA)
Primary Goalkeeper
Leonardo Burján
(1.16 GA/90, +12.5 GAAx)
Team Disciplinary Record
54 yellows, 2 reds
Colón's struggles with their defense were a consistent problem during the 2018/19 season. Even though the side reduced the number of chances allowed as the season went on, the goal-scoring hit a dry spell after the New Year. Colón were weak in open play, brittle in set-piece defense, and unstable in its staffing. Who would have guessed that the mediocre start to the season would actually represent the team's best phase?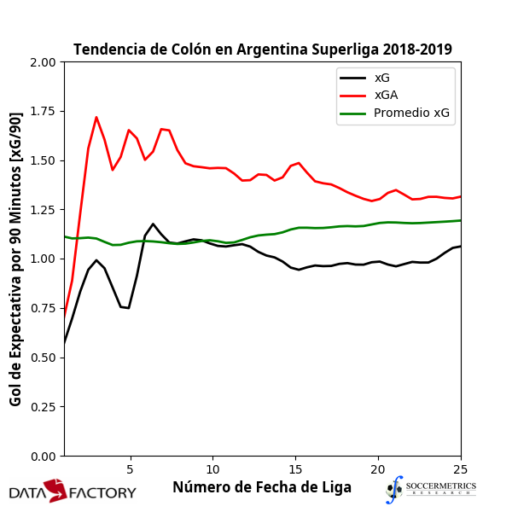 Managers: Colón saw four managers in the dugout for more than one match, as well as one manager who was a one-match caretaker. No other club in the Superliga saw so much managerial turnover in one season.
The first manager was Eduardo Domínguez, who took charge of the squad from opening day to the end of 2018 (matchday 12). During this period Colón won three, drew five, and lost four of their 12 matches and earned an average of 1.17 points per match. Their goal difference was slightly better (+1.1 goals) than their expected goal difference. Domínguez made a total of 29 squad rotations, or a little less than 2.5 rotations per match. The record was mediocre to be sure, but it turned out to be Colón's high-water mark in the 2018/19 Superliga season.
After Domínguez was club legend (and all-time leading goalscorer) Esteban Fuertes, who directed the team in a temporary role during matchdays 13, 14, and 15. Fuertes achieved just two draws from his three matches, but the team performed a little better in defense than expected (4 GA vs 6.0 xGA). Fuertes kept a relatively stable lineup with only four rotations over his three matches.
Julio Comesaña took over from Fuertes in matchday 16 and led the team for five matches until matchday 21 (an 0-2 loss at Talleres). Comesaña's record was W1 D1 L3 with a goal difference -1.2 goals worse than expected. Comesaña made 17 squad rotations over his tenure, or 3.4 rotations per match.
After a brief interlude by Marcelo Goux, the final manager of the season was Pedro Lavallén, who was in charge of Colón's final four league matches. Lavallén ended the season winless (W0 D2 L3) as his team struggled to put away chances and ended up punished for mistakes. Lavallén made a total of 13 rotations over his matches, or 3.25 per match.
Formations: Throughout the season Colón played with a four-man backline and four or five in midfield. At times the midfield would be arranged with two holding midfielders; other times an extra man would be inserted in the advanced midfield. One example is presented below in the following passing network in which Colón's starting lineup appears to be in a 4-2-3-1 that shifts to a 4-4-2 double pivot after the substitutions: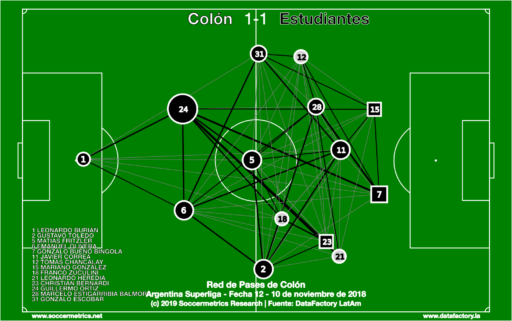 Interestingly enough, the most commonly used starting lineup occurred at the end of Domínguez's tenure and one match during Esteban Fuertes' stint.
While most of Colón's possession metrics in offense, such as number of possessions, passes per possession, and time on-ball, were close to the league average, they created very few shots while in possession. Just 6.0 possessions per match contained at least one shot toward goal, less than any team except for Gimnasia (LP) and Patronato. No other Superliga side had a lower percentage of possessions with at least one shot.
Expected Play: Colón finished in the bottom quarter in terms of expected goals created (1.10 xG/90) and allowed (1.31 xGA/90). They scored the third-fewest goals from open play in the 2018/19 Superliga while taking the fewest shots from open play, and allowed the third-most goals from set pieces despite allowing the eighth-most opportunities from those situations.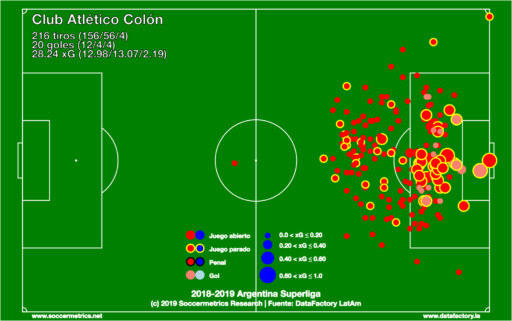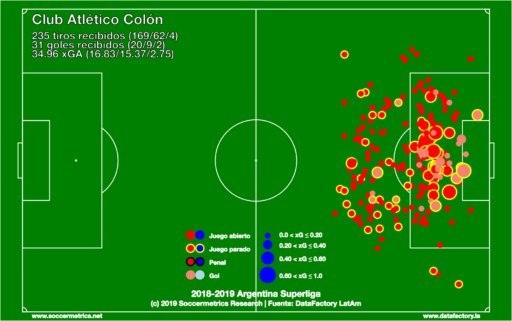 Javier Correa led all sabalero players with 3.37 xG and 0.270 xG/90 (over all players with more than 900 minutes played). Correa and Leonardo Heredia — who would go on to be the team's leading goalscorer — were among the key generators of expected goals from open play, and they would be joined in mid-season by Luis "el Pulga" Rodríguez who became a third major xG contributor. Set-play xGs were generated by midfielder Matías Fritzler and defenders Emanuel Olivera and Guillermo Ortiz.
Fritzler led the team in expected assists with 2.09 xA, almost all of these opportunities generated from open play. Marcelo Estigarribia was the leading creator of expected assists from free kicks, and was credited with two actual assists in league play. Both players operated in the middle sector of the field between the final third and the top of the penalty area.
Leonardo Burián was Colón's lone goalkeeper during the Superliga season, playing in all 25 matches for a total of 2394 minutes. He allowed 1.16 goals per 90 minutes and was credited with eight clean sheets. His 12.5 goals allowed above expected (GAAx) was tied for fourth-worst in the division.
Best Match: The 3-1 victory over Godoy Cruz in matchday 6, in which Leonardo Heredia achieved a superb hat-trick. The only match of the season during which el sabalero created more than 3.0 xG.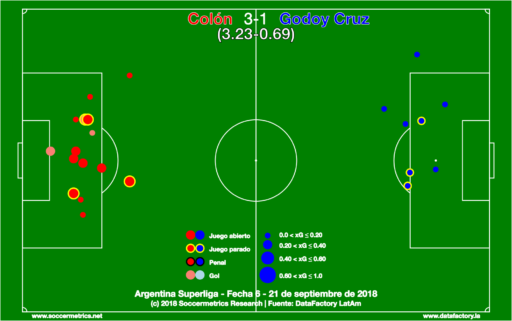 Worst Match: Without almost any doubt, the 3-1 loss at Defensa y Justicia in matchday 15. Beccacece's men all but erased Fuertes' charges from the encounter in a sour end to 2018 and Fuertes' tenure with the team.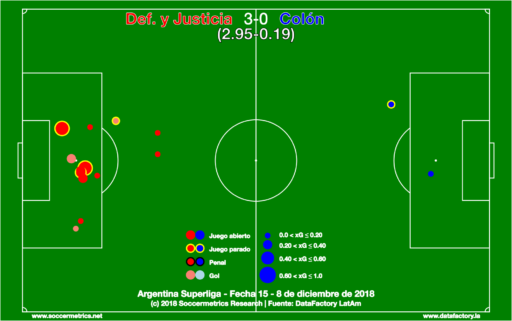 Best Player: Fritzler, Estigarribia, Heredia, and the second-half arrival Pulga Rodríguez should be considered, but in the end, Javier Correa gets the nod for best player for his contributions in the central final third from open and set plays.
This review has been prepared with match event data supplied by DataFactory Latinoamérica.