Superliga 18/19 Record
Won 6, Drawn 11, Lost 8 (29 points)
Superliga 18/19 Position
16th
Relegation Average
1.439 (118 points/82 matches)
Relegation Position
10th
Copa de la Superliga Result
Lost in First Round to
Estudiantes (LP) (1-2 agg)
Goals Scored
(own-goals not included)
27 (17 open, 5 set-piece, 5 penalty)
Goals Allowed
(own-goals not included)
31 (24 open, 5 set-piece, 2 penalty)
Leading Goal Scorer
Darío Cvitanich and Jesús Dátolo (5 goals)
Leading xG
Darío Cvitanich (4.92 xG)
Leading xA
Jesús Dátolo (3.12 xA)
Primary Goalkeeper
Iván Arboleda
(1.11 GA/90, +7.0 GAAx)
Team Disciplinary Record
59 yellows, 1 red
Banfield were mediocre; the league table proves it but the advanced metrics beg to differ. Early in the season, between matchdays 7 and 13, Banfield were creating more scoring opportunities than they allowed. They didn't win many of those matches, but they didn't lose very many, either — just one loss from seven. After the turn of the year, el Taladro continued to create more chances than they allowed, but for various reasons fortune deserted them and landed on their opponents. One win from ten was all that the green-and-whites had to show for their efforts. No wonder Hernán Crespo's hair was turning white.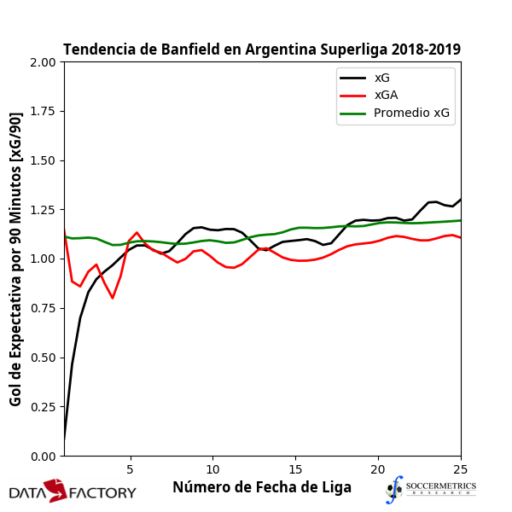 Manager: Banfield has two long-term managers during the 2018/19 season. The first was a long-time fixture in Argentine football and a Banfield legend, Julio César Falcioni. Falcioni led the team out for their first fourteen matches in the league and decided to retire due to health problems. During that time Banfield won four, drew six, and lost four, scoring and allowing fewer goals than expected (12 goals vs 16.1 xG, 12 goals allowed vs 15.1 xGA). Falcioni made a relatively low 23 squad rotations over his fourteen matches.
After a brief interregnum by Sebastián Battaglia, former Argentina, River, and Milan striker Hernán Crespo took over the side for the final ten matches in 2019. Banfield's record in the New Year was W1 D5 L4, as the team scored fewer goals than expected (14 goals vs 17.2 xG) and allowed more goals than expected (19 goals allowed vs 13.7 xGA). With the exception of Edgardo Bauza, no other manager experienced such a poor record of his team's goal difference relative to expectations. Crespo made the same number of rotations as Falcioni — 23 — but over four fewer matches.
Formation: The formations stayed somewhat constant between the two managerial regimes. Both Falcioni and Crespo utilized either a 4-2-3-1 or a 4-1-4-1. If they preferred to line up their players in three lines, Falcioni would lean more toward a 4-4-2 double 6 and Crespo might prefer a 4-3-3.
Falcioni's most common lineup appeared in three matches in November 2018 for a total of 171 minutes. Here is one of those lineups that appeared in the matchday 11 match against Aldosivi: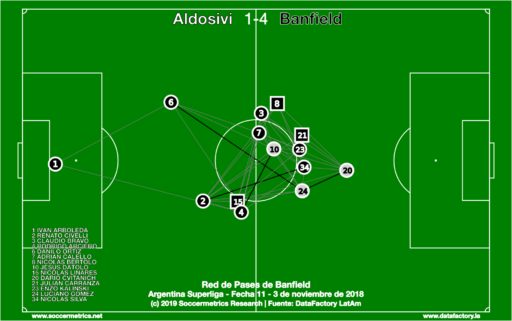 Crespo did not repeat many starting lineups, and his most common lineup did not appear for as many minutes as Falcioni's. The one starting lineup that he did repeat appeared on matchdays 19 and 20. Here is Banfield's passing network during their matchday 20 encounter with Colón: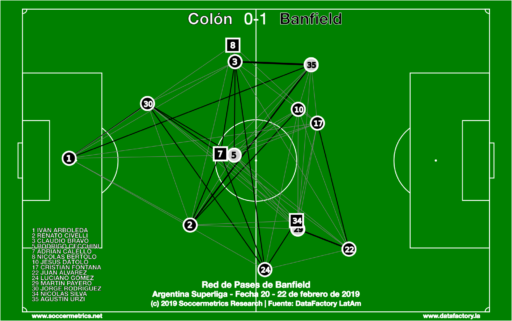 Crespo had to find replacements for a number of players who left during the summer break, such as Danilo Ortíz, Enzo Kalinski, and Darío Cvitanich. He also had to transition the team's play from one that sought out one big target in Cvitanich, to one that played with more width. Much of the defensive unit, the goalkeeper, and the two holding midfielders were intact from the Falcioni era. But an adequate replacement for Cvitanich was the greatest challenge of Crespo's tenure.
Over the entire season, Banfield ranked mid-table in the major possession metrics: number of possessions, time on-ball, number of passes per possession. Their percentage of possessions that contained at least one shot placed them in the lower third of Superliga sides, and the percentage of opposing possessions that contained a shot were in the top four of the league. Why this team struggled so much during the second half of the season is a mystery.
Expected Play: Banfield's expected goal figures were actually good. As a team, they generated 34.7 xG and allowed 29.5 xG. Per 90 minute figures were 1.30 xG and 1.11 xGA, respectively, which placed el Taladro among the top ten teams in expected goals generated and allowed per 90 minutes. The team's downfall, particularly in 2019, was in their defense. While Banfield converted chances at a 10.8% rate, just above the league average, opposing teams converted their opportunities at a 13.2% rate. Only Patronato and Tigre saw their opponents convert at a higher rate.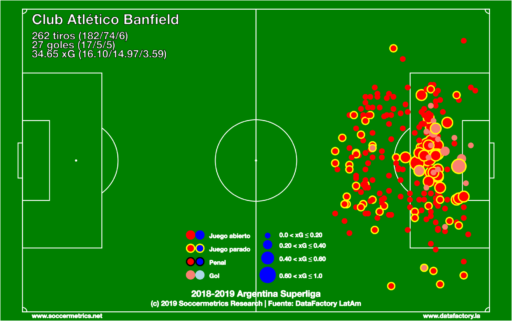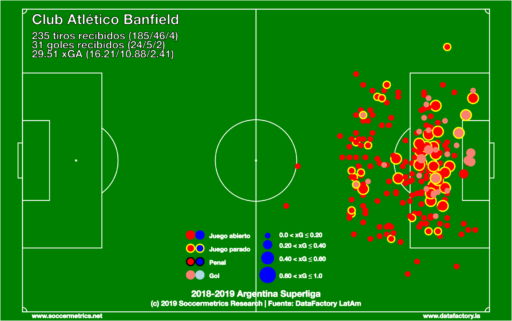 The most important individual players for Banfield this season were Darío Cvitanich and Jesús Dátolo. Cvitanich, a long-time icon with el Taladro, transferred to Racing in January. But in the first half of the season, he generated 4.92 xG while scoring five goals (two by penalty). No other player came close to Cvitanich's touches in the central final third or the penalty area.
Dátolo created more expected assists (3.12) than any other Banfield player, created more expected assists (0.80) from free kicks than all but three players in Superliga, and was the only player who matched Cvitanich's goal figure. If one considers just passes from open play, Rodrigo Cecchini was more of a threat to create chances (1.69 xA) and Enzo Kalinski provided support in the middle before he left for Estudiantes in January. Dátolo was a more well-rounded threat from open play and set pieces.
In goal, Iván Arboleda had primary duties (2115 minutes) with limited support from Facundo Cambeses (288 minutes). Arboleda allowed 1.11 GA/90 and 7.0 more goals than expected while being credited with seven clean sheets.
Best Match: Definitely the Aldosivi 1-4 Banfield match on matchday 11. Banfield didn't have the majority of possession, but when they had the ball and entered the penalty area, they were devastatingly clinical.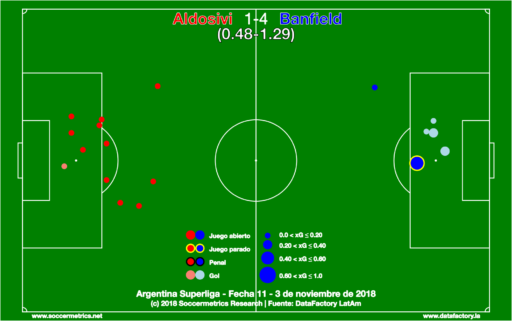 Worst Match: Banfield blew four points in two high-scoring draws, but the 3-1 loss to Talleres in matchday 17 was a disappointing result and an indication of what was to come in 2019. Banfield's lowest xG performance in a match that they lost.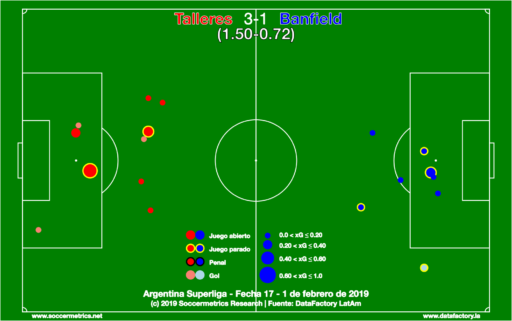 Best Player: Darío Cvitanich left in mid-season, so the award goes to Jesús Dátolo almost by default, but also very deservedly. He had a hand in a quarter of Banfield's offensive production through his goals or assists, and was one of the league's most dangerous players on dead-ball plays.
This review has been prepared with match event data supplied by DataFactory Latinoamérica.