Superliga 18/19 Record
Won 6, Drawn 8, Lost 11 (26 points)
Superliga 18/19 Position
20th
Relegation Average
1.243 (102 points/82 matches)
Relegation Position
19th
Copa de la Superliga Result
Lost in First Round to Aldosivi (3-2 agg)
Goals Scored
(own-goals not included)
16 (10 open, 5 set-piece, 1 penalty)
Goals Allowed
(own-goals not included)
26 (19 open, 6 set-piece, 1 penalty)
Leading Goal Scorer
Fernando Zampedri (4 goals)
Leading xG
Fernando Zampedri (5.68 xG)
Leading xA
Leonardo Gil (3.86 xA)
Primary Goalkeeper
Jeremias Ledesma
(0.93 GA/90, +2.0 GAAx)
Team Disciplinary Record
60 yellows, 4 reds
A deeply disappointing season for Rosario Central that was salvaged somewhat by their victory in the Copa Argentina final against their archrival, but a forgettable season nonetheless. It was inevitable that Central's defensive performance would regress to the league mean, but the goalscoring lagged persistently behind the league average. Central would go on to score nine goals at home, seven goals on the road, and no more than two goals in any league match. It's that lack of scoring that caused Canalla to drop points nineteen times in 2018/19 and start 2019/20 in the relegation zone.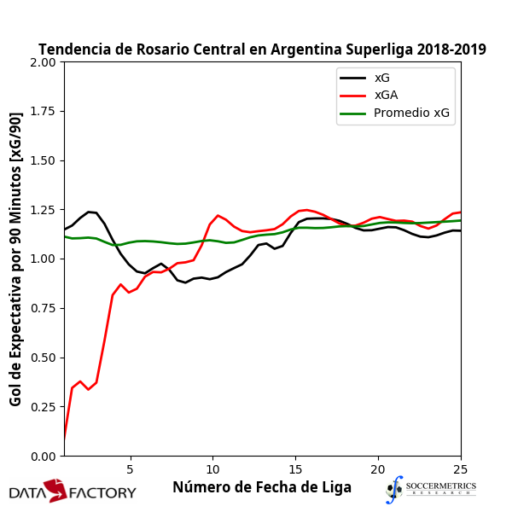 Managers: Rosario Central had three managers during the season. The first, and the one with the longest tenure, was former Argentina national team manager Edgardo Bauza. He led the team out for 20 matches and departed after the 2-0 loss to Lanús in matchday 20. Bauza's tenure was a disappointing one, with five wins, six draws, and a goalscoring performance well below expectations (13 goals vs 24.6 xG). Bauza was followed by Paulo Ferrari, who managed Canalla for three matches, and then Diego Martín Cocca for the final two matches. Their performances weren't much better — Ferrari went winless in three, and Cocca won one and lost one.
Formations: This will focus on Bauza's systems. Edgardo Bauza preferred to deploy a 4-4-2 with one holding midfielder (diamond) or two holding midfielders. He played the following starting lineup in a 4-4-2 double 6 more frequently than any other during the season — a total of 409 minutes: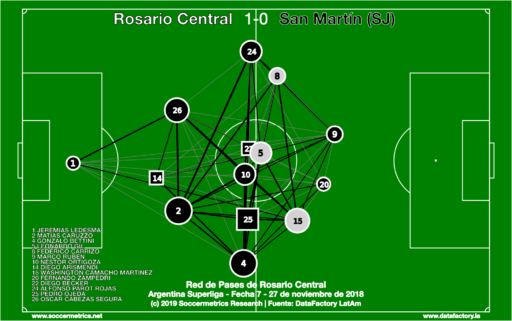 This match lineup coincided with Central's high-water mark of the season. After this match, Central made five chances, lost comprehensively 0-4 to Unión, and started their slide down the table.
Central's possession statistics were in the middle pack of Superliga teams. Their average number of possessions, passes per possession, and on-ball time were around the league average. They also allowed their opponents a similar number of possessions and time on the ball. The big difference was that for all possessions that contained a shot toward goal, Central's opponents generated 25% more expected goal value.
Expected Play: Rosario Central's offensive and defensive expected goal figures were about the same. They generated 1.14 xG/90 and allowed 1.23 xG/90. Central were second in the league in xG/90 from set-pieces (0.60), and fifth-worst in the league in xGA/90 from set plays (0.58).
Fernando Zampedri led Central in expected goals (5.68) and actual ones as well (4). Leonardo Gil led the team in expected assists (3.86) and was 8th among all Superliga players in expected assists from corner kicks (0.36) and 10th in expected assists from free kicks (0.63). Jeremías Ledesma was the primary goalkeeper for the team, playing 2312 minutes, allowing 0.93 goals per 90 minutes, and receiving 2.0 more goals than expected.
Best Match: The 2-1 victory over Estudiantes in matchday 13. A really good win against an Estudiantes team that was playing well in the league up to that moment.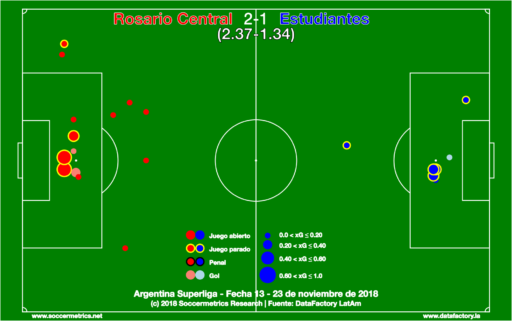 Worst Match: The 0-4 loss at home to Unión in matchday 8. Unión were super clinical, but were helped by an abysmal performance from Central all over the field. Few knew it at the time, but this would be the last match in which Central would be in the top eight of the league.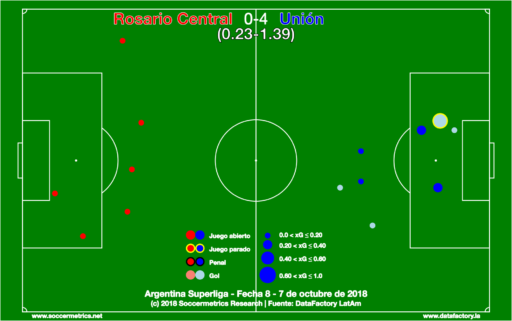 Best Player: Gil deserves consideration, but in the end the player of the season was Fernando Zampedri, Central's leading scorer and chance creator.
This review has been prepared with match event data supplied by DataFactory Latinoamérica.