Superliga 18/19 Record
Won 9, Drawn 8, Lost 8 (35 points)
Superliga 18/19 Position
10th
Relegation Average
1.365 (112 points/82 matches)
Relegation Position
14th
Copa de la Superliga Result
Lost in First Round to San Lorenzo
(0-0 agg; 3-4 pen)
Goals Scored
(own-goals not included)
27 (21 open, 3 set-piece, 3 penalty)
Goals Allowed
(own-goals not included)
27 (18 open, 6 set-piece, 3 penalty)
Leading Goal Scorer
Lucas Gamba (6 goals)
Leading xG
Lucas Gamba (5.17 xG)
Leading xA
Lucas Gamba (2.84 xA)
Primary Goalkeeper
Marcos Díaz
(0.73 GA/90, +2.8 GAAx)
Team Disciplinary Record
63 yellows, 5 reds
Boca Juniors ruined Huracán's season. Not by handing them a demoralizing loss — Huracán actually drew with them 0-0 — but by poaching their manager. By the end of 2018, Huracán's offensive performance was in line with the league average, their defensive performance was better than the league average, and the team was in fourth place. When Gustavo Alfaro left and was replaced by Antonio Mohamed, Huracán's performance at both ends of the pitch suffered to such an extent that los Quemeros barely finished in the top ten. Only Tigre's relegation allowed them to confirm their place in next year's Copa Sudamericana.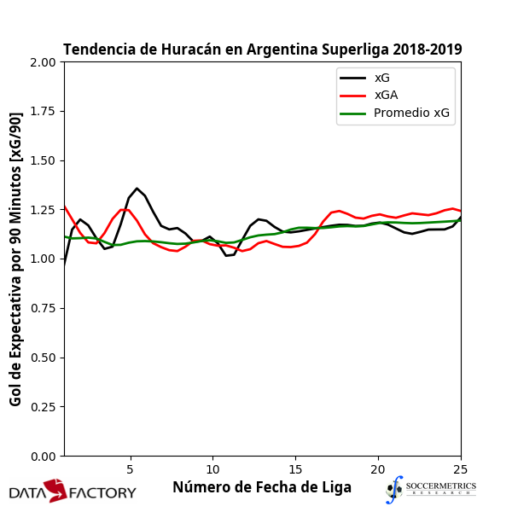 Managers: Huracán had two long-term managers during the 2018/19 season.
The first was Gustavo Alfaro, who led the team from the opening day until matchday 15, after which he resigned to become manager of Boca Juniors. Alfaro's record was excellent: 7 wins, 5 draws, and only 2 defeats while performing 6.2 goals above expected goal difference (19 goals vs 16.2 xG, 12 goals allowed vs 15.3 xGA). Alfaro also made a total of 23 squad rotations over his 14 matches.
Antonio Mohamed took over Huracán at the turn of the year and managed El Globo from (postponed) matchday 13 to the end of the season. Mohamed struggled with the Parque Patricios side, with just two wins, three draws, and six defeats, with a performance of 5.3 goals below expected goal difference (9 goals vs 16.4 xG, 16 goals against vs 18.1 xGA). He made a total of 39 squad rotations over his 11 matches.
Formations: The 4-4-2 was the formation of choice for both managers. Mohamed was more willing to use different formations such as 4-3-3 or 3-4-2-1 to match up better against his rivals. Oddly enough, the most used starting lineup was one that was employed by both managers and appeared in matchdays 13, 16, and 20 for a total of 152 minutes. Below is the passing network for Huracán in their matchday 20 encounter against Unión: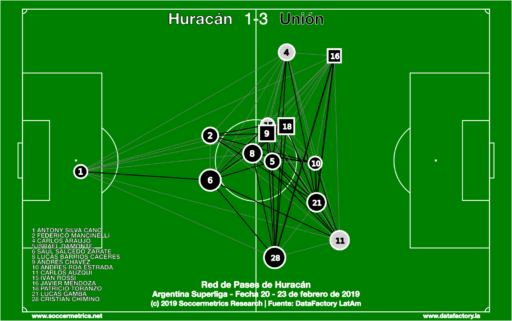 In terms of overall possession metrics, Huracán's total number of possessions were right in line with the league average, but their average number of passes per possession were in the bottom five of the league. They were in the upper half in terms of the percentage of possessions started in the opposing half, and the time-to-shot was also in the upper half of Superliga teams. Defensively, Huracán allowed more deliberate possessions and longer times-to-shot, but the number of possessions allowed and the proportion of opposing possessions starting in their own half were the same.
Expected Play: Huracán's offensive and defensive shot metrics were almost identical. Los Quemeros took and allowed 249 and 253 shots, respectively, scored and allowed 27 goals, and saw a difference between expected goals generated and allowed of a mere 0.26 units. On a 90 minute scale, Huracán generated 1.21 xG/90 and allowed 1.24 xG/90. Shot conversion rate was right in line with the league average at around 10.5%.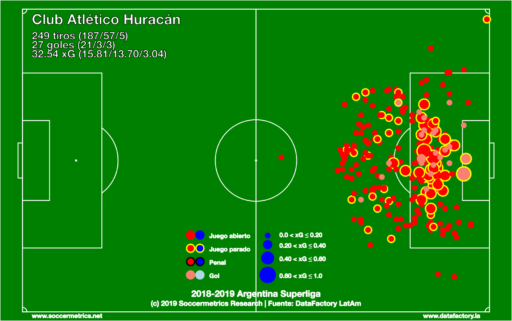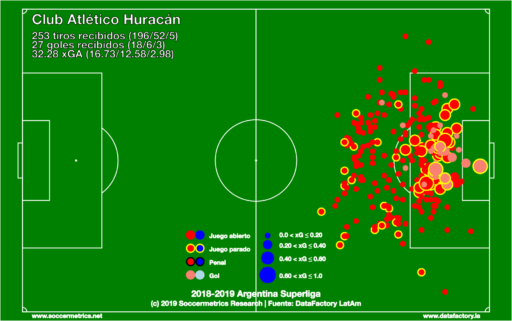 Huracán's leading player in expected goals was Lucas Gamba (5.17 xG), followed closely behind by Andrés Chávez. Gamba was more of a threat from set pieces than any other player in the lineup. Lucas Barrios also made a contribution despite playing for just 691 minutes since his arrival in January. Gamba was also the leader in expected assists with 2.84 xA, followed by Andrés Roa (2.16 xA) and Iván Rossi (2.00 xA).
Huracán used four different goalkeepers during the tournament, so their most used goalkeeper — Marcos Díaz — appeared in a little more than half the minutes of the most used goalkeeper in the league. Díaz performed well as he allowed 11 goals for a 0.73 GA/90 average. That said, he was one of two first-choice 'keepers in the Superliga who did not record a single clean sheet.
Best match: Huracán's 3-0 home win over Banfield in matchday 5.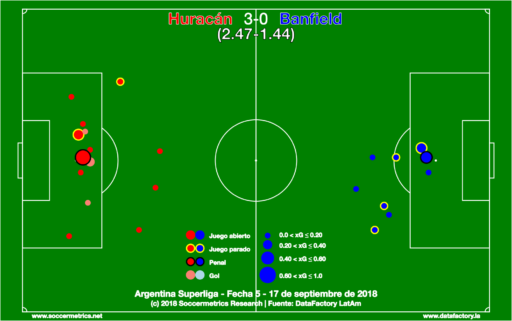 Worst match: The 1-3 home loss to an already relegated San Martín (Tucumán) in matchday 22. If Antonio Mohamed wasn't already a goner by this point in the season, he almost certainly was after this match.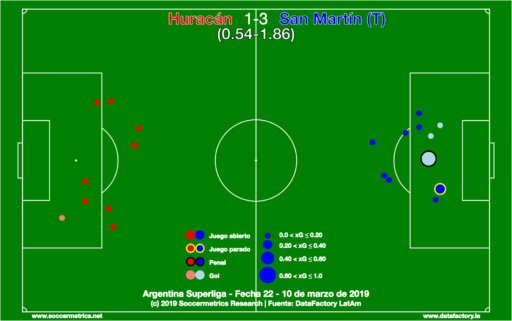 Best Player: It has to be Lucas Gamba, who made the most appearances, scored the most goals, made the most entries into the final third, and created a high proportion of the team's scoring plays.
This review has been prepared with match event data supplied by DataFactory Latinoamérica.