Superliga 18/19 Record
Won 5, Drawn 7, Lost 13 (22 points)
Superliga 18/19 Position
26th (Last)
Relegation Average
1.211 (63 points/52 matches)
Relegation Position
20th
Copa de la Superliga Result
Lost in semifinal to Boca Juniors (1-0 agg)
Goals Scored
(own-goals not included)
15 (11 open, 3 set-piece, 1 penalty)
Goals Allowed
(own-goals not included)
28 (19 open, 8 set-piece, 1 penalty)
Leading Goal Scorer
Alexis Mac Allister (5 goals)
Leading xG
Alexis Mac Allister (5.09 xG)
Leading xA
Alexis Mac Allister (3.30 xA)
Primary Goalkeeper
Lucas Chaves
(1.02 GA/90, +7.6 GAAx)
Team Disciplinary Record
60 yellows, 3 reds
Argentinos Juniors owe their continued Superliga status to one Alexis Mac Allister. The 20-year-old midfielder created scoring chances for his teammates and himself, but more often than not saw very poor conversion from his forward-facing colleagues. Scoring — and the creation of scoring chances — lagged worryingly during the spring, but recovered later in the spring and continued into the second half of the season. But Argentinos' lack of scoring punch hurt their ability to win matches. The 2019/20 season will present new challenges with the departure of Mac Allister, so a relegation fight can't be discounted.
Managers: Argentinos were one of two sides in the Superliga that saw four different managers lead the side for multiple matches.
First was Alberto Berti, who directed the team from the opening day to the match against Boca Juniors in matchday 5. During his tenure, Argentinos won one and drew two of their matches while scoring and allowing fewer goals than expected (2 goals vs 4.7 xG; 2 GA vs 4.1 xGA). Berti made eight squad rotations in his five matches.
Next was Ezequiel Carboni, who managed El Bicho for six matches and left after losing at home to Tigre on matchday 12. Carboni's tenure marked Argentinos' worst on-field performance in the championship — no wins, one draw, just one goal scored and nine goals allowed. Argentinos' inability to convert scoring chances (1 goal vs 5.3 xG) made it extremely difficult for them to win league points. Carboni made a total of 17 rotations in his matches.
Carboni was followed by Raúl Sanzotti who led Argentinos for their final league matches of 2018. His tenure was more of the same, with one win and one draw and a goal performance that continued to lag behind expected performance. He made a total of 13 squad rotations in his four matches.
The final manager of the season was Diego Dabove, who left Godoy Cruz to join Argentinos in matchday 16. El Bicho won three and drew three under Dabove despite an attack that was still not converting its chances. Dabove kept a stable lineup, with 19 total rotations in his ten matches.
Formation: Argentinos played a variety of formations under their four managers. In the first half of the season, the first three managers deployed either a 4-2-3-1 or a 4-3-3. The arrival of Dabove saw Argentinos move away from the 4-3-3 and play either a 4-2-3-1 or a 4-4-2 diamond. In these formations, Alexis Mac Allister was positioned very high in the midfield so that he was effectively a third forward player.
The most frequent Argentinos lineup appeared for 337 minutes under Dabove. It was a lineup that first appeared after second-half substitutions and later became a starting configuration. The passing network of the matchday 20 encounter against Atlético Tucumán shows how the player within this lineup interacted with each other.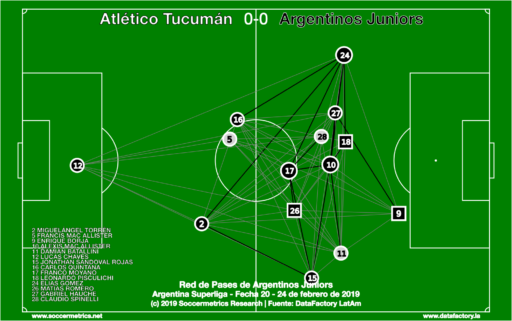 Expected Play: Argentinos' league record appears strange when one looks at their expected offensive and defensive performance. They generated 1.04 xG/90, which is in the bottom quarter and admittedly a poor production, but they only allowed 1.12 xGA/90, which is in the top third of the league. The difference is that Argentinos' shot conversion rate was a league-worst 6.1%, while opponents converted their shots at a rate of 12.9%.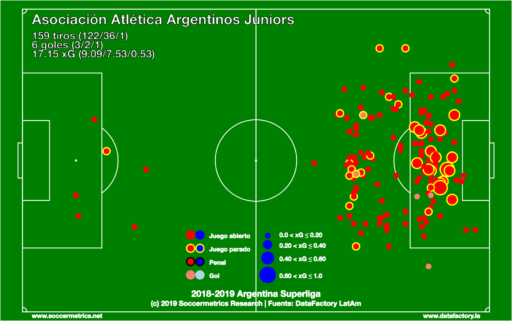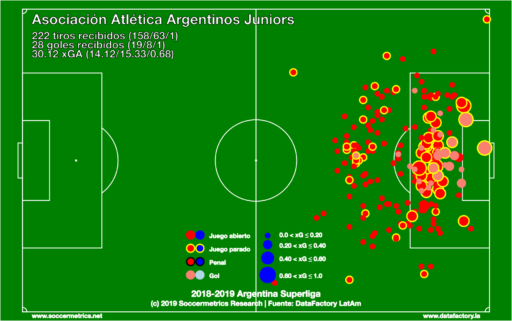 The team leader in expected goals was, by a wide margin, Alexis Mac Allister with 5.09 xG. The next closest player was defender Jonathan Sandoval (3.10 xG), and then some distance to the striker with the most xG (Damián Batallini, 1.93 xG and two goals). Mac Allister is also the leader in expected assists with 3.30 xA, followed again by Jonathan Sandoval (1.23 xA) and then by midfielder Gastón Machín (1.21 xA).
Best Game: The 3-2 away win against San Lorenzo in matchday 21. One of only two league matches in which El Bicho scored three goals (both 3-2 wins), Argentinos' best xG performance on the road, and the victory that ensured their Superliga status.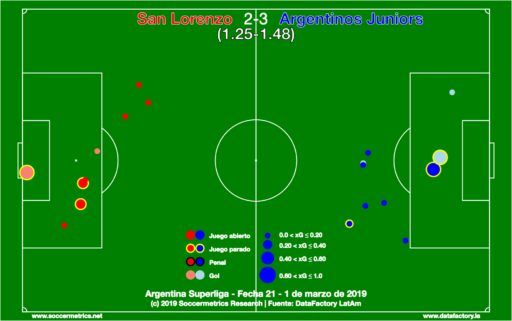 Worst Game: The 0-2 home defeat to Racing in matchday 7, in which Argentinos were nonexistent.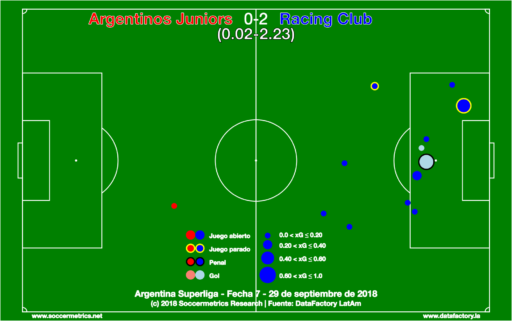 Best Player: Alexis Mac Allister. No explanation necessary for one of the best players in the 2018/19 Superliga.
This review has been prepared with match event data supplied by DataFactory Latinoamérica.