Superliga 18/19 Record
Won 7, Drawn 8, Lost 10 (29 points)
Superliga 18/19 Position
17th
Relegation Average
1.475 (121 points/82 matches)
Relegation Position
8th
Copa de la Superliga Result
Lost in Quarterfinal to Racing Club
(1-1 agg; away goals rule)
Goals Scored
(own-goals not included)
20 (12 open, 7 set-piece, 1 penalty)
Goals Allowed
(own-goals not included)
24 (19 open, 1 set-piece, 4 penalty)
Leading Goal Scorer
Mariano Pavone, Lucas Albertengo,
Matías Pellegrini, Gastón Fernández
(3 goals)
Leading xG
Mariano Pavone (3.69 xG)
Leading xA
Gastón Fernández (2.79 xA)
Primary Goalkeeper
Mariano Andújar
(0.90 GA/90, +2.1 GAAx)
Team Disciplinary Record
63 yellows, 6 reds
When you consider that Estudiantes' leading goalscorer had three (3) goals, the fact that Estudiantes finished in 17th place has to be described as a modern miracle. Their defensive performance was quite good; among the clubs that qualified for Copa Sudamericana, only Vélez and Unión allowed as many or fewer goals than el Pincha. Estudiantes' chance creation cratered near the end of the year and despite recovering in 2019 remained well behind the league average. Add a conversion rate below that of an average team, and it added up to a difficult situation for Estudiantes. Their promedio remains very high, but their fourth-place finish from three seasons ago will roll off in 2019/20, which will leave Pincha dangerously close to the relegation zone.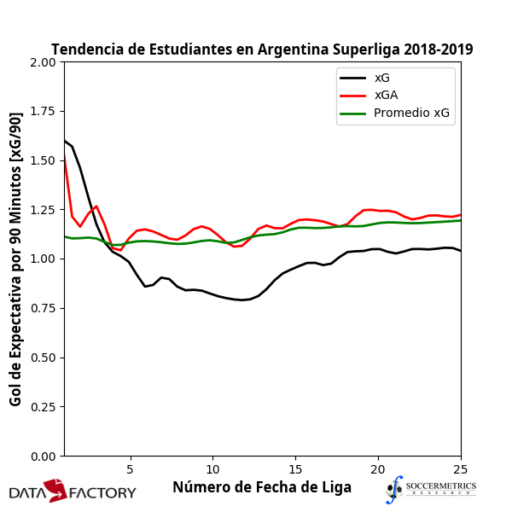 Managers: Estudiantes had one long-term manager, one caretaker, and one who will be a long-term manager in the following season.
The first manager of the season was Leandro Benítez, who led the squad from the opening day to the 1-0 loss to Talleres de Córdoba in matchday 20. Estudiantes under Benítez had a record of W5 D6 L9 with 1.050 points earned per match, with a defensive performance 3.5 goals ahead of expectations but an offensive performance 4.4 goals behind expectations. Benítez also made a total of 54 squad rotations, or an average of 2.7 rotations per match.
After a two-week caretaker period by Pablo Quatrocchi, Gabriel Milito returned to Estudiantes for his second stint at the club. Estudiantes won one and drew two of the three matches under Milito, scoring two goals and allowing one. Milito made eight squad rotations in his three matches.
Formations: I'll focus on the lineups and formations of Leonardo Benítez. Benítez tended to use three lines in either a 4-3-3 or a 4-4-2, but would sometimes shift to a 4-1-4-1 or a 4-2-3-1.
Benítez repeated some lineups during the first half of the season. One starting lineup was used in three of the first four matches of the season, and another was kept for matchdays 7 and 10 (which were played on the 24th and 28th of October). In the round 10 match against Banfield, Benítez replaced Juan Apaolaza with Gastón Hernández, who took control of the midfield and helped keep Estudiantes on the front foot after Pavone's opening goal. Benítez would go on to maintain this configuration of 11 players together for 148 minutes, longer than any other on-field lineup and during Estudiantes' best run during the championship. The passing network for the matchday 12 encounter against Colón illustrated the final time that this lineup would appear on the field together.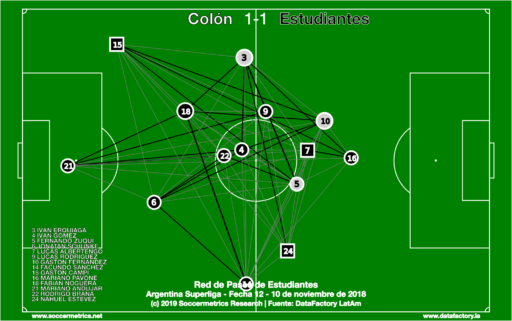 Expected Play: Estudiantes were an average defensive team who struggled to create scoring chances. They generated 27.8 total xG, sixth-lowest in the Superliga, and allowed 32.7 total xGA , which ranked 13th. El Pincha were reliant on set-pieces to generate opportunities and score goals; 44.2% of their expected goals came from set-pieces, eighth-highest in the Superliga. Estudiantes would score the eighth-most goals from set plays — seven — but the fourth-fewest from open play — twelve.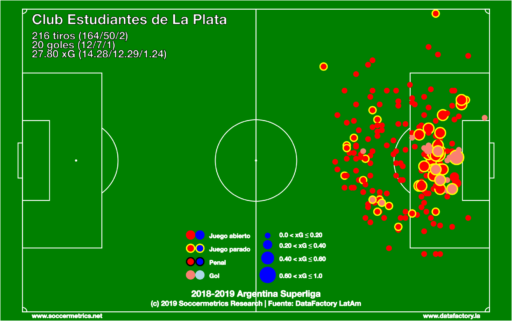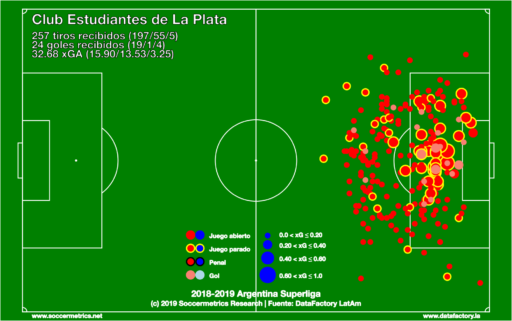 Individually, expected goal production was led by Mariano Pavone (3.69 xG) with Lucas Albertengo (3.24) providing support. Albertengo was more of a threat on set-pieces, but the bigger threat on those plays came from the pair of center backs Jonatan Schunke and Fabián Noguera, who generated 2.83 xG and 2.21 xG from set plays, respectively. Both defenders scored a total of three goals from those plays. One young player who deserves attention is Matías Pellegrini, the 19-year-old left winger who generated 2.04 xG (1.80 xG from open play, third-highest on the team) and scored three goals. Pellegrini will be one of Inter Miami's original players when they join Major League Soccer in 2020.
Gastón Fernández, who played attacking roles as a midfielder or striker, led the team in expected assists with 2.79 xA, 1.95 of which came from open play. Other midfielders, such as Enzo Kalinski, Lucas Rodríguez, Iván Gómez, and Rodrigo Braña, completed more passes, but Fernández placed the ball into dangerous areas more often.
Mariano Andújar has been el Pincha's first-choice goalkeeper for a significant chunk of the decade, and remained so this season. He played all but 98 minutes of Superliga matches, appearing for 2311 minutes, conceding 0.90 goals per 90 minutes and 2.0 more goals than expected, and achieving nine clean sheets.
Best Match: Any win over Gimnasia will be memorable, but Estudiantes' best win of the season occurred early. It was the 2-0 win against Boca Juniors that knocked Boca off the top of the league charts for the first time in almost two years.
Worst Match: The 3-0 defeat at San Martín (San Juan) on matchday 17, which was a depressing result against a relegation struggler.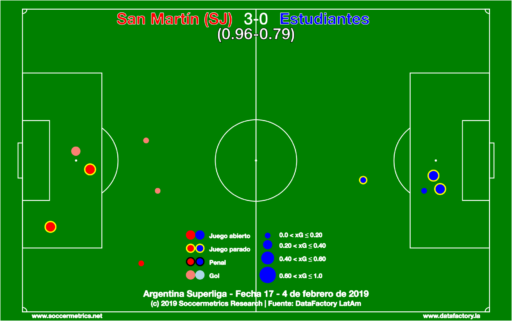 Best Player: Fernández deserves consideration, and Pavone will leave the club as an icon, but it's difficult to select a three-goal striker as best player. In the end, I name Jonathan Schunke best player, for anchoring the defensive backline, leading the team in blocks and tackles, and contributing as a threat from set-pieces.
This review has been prepared with match event data supplied by DataFactory Latinoamérica.