Superliga 18/19 Record
Won 8, Drawn 5, Lost 12 (29 points)
Superliga 18/19 Position
18th
Relegation Average
1.207 (99 points/82 matches)
Relegation Position
21st
Copa de la Superliga Result
Lost in Quarterfinal to Argentinos
(2-1 agg)
Goals Scored
(own-goals not included)
20 (15 open, 4 set-piece, 1 penalty)
Goals Allowed
(own-goals not included)
30 (18 open, 6 set-piece, 6 penalty)
Leading Goal Scorer
Santiago Silva (5 goals)
Leading xG
Santiago Silva (4.11 xG)
Leading xA
Víctor Ayala (1.77 xA)
Primary Goalkeeper
Alexis Martín Arias
(1.10 GA/90, +5.9 GAAx)
Team Disciplinary Record
73 yellows, 5 reds
El Lobo had a mediocre season by most measures, but if one looks at their expected play metrics, it's a wonder how they earned 29 points. They struggled to create more than 0.75 xG per 90 minutes, and their defensive record declined over the second half of the season. They were overly aggressive in the field, giving up more fouls than any other team in Superliga and conceding penalties in five matches, losing four of them. Gimnasia will start the new season in the relegation zone.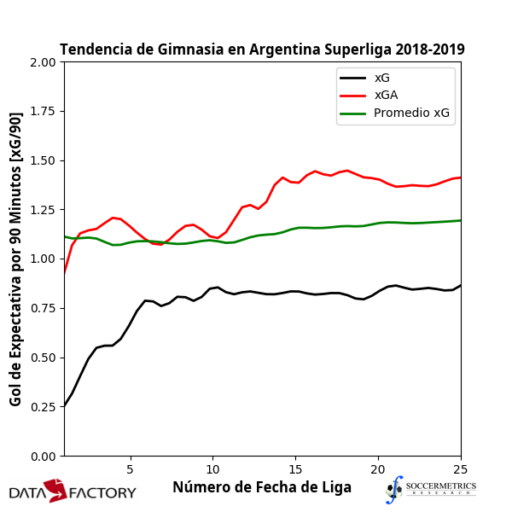 Managers: Gimnasia had two long-term managers during the season. The first was Pedro Troglio, who managed the team for its first nineteen matches and left after their 1-0 loss to Defensa y Justicia. Gimnasia's actual performance wasn't lagging behind its expected performance (15 G vs 16.1 xG, 28 GA vs 28.8 xGA), but its performance was pulling Gimnasia toward the relegation places. Even worse, Gimnasia's defensive performance appeared to be worsening after the Christmas/New Year's break. Hernán Darío Ortiz replaced Troglio almost immediately and led the team for their remaining six matches. Gimnasia continued to give up chances, but they didn't concede as many goals (4 GA vs 9.0 xGA), which contributed to 11 points earned from those matches.
Formations: The one constant in Gimnasia's season was the lack of stability in the lineup. Only two starting lineups were repeated, all by Troglio, and none saw more than 120 minutes of play together. Gimnasia had 38 different players in their lineups, more than all but two other sides in the Superliga, and both managers made about 2.5 squad rotations per match.
Troglio started the season deploying a 4-3-3 system. After his team lost two of their first three matches — incidentally, with a repeated lineup — he switched the system to a 4-4-2 with two holding midfielders. This formation became the preferred formation for Gimnasia in the Superliga even after Ortiz replaced Troglio.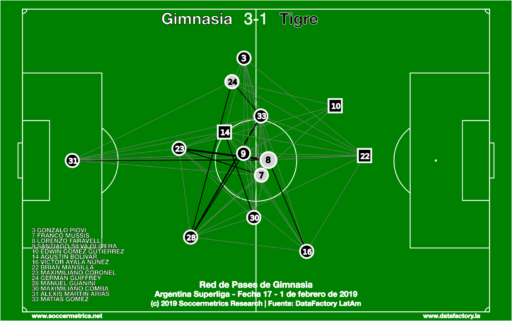 Like Patronato, Gimnasia ranked at or near the bottom of the league in total number of possessions, passes per possession, and possession time. They produced fewer possessions that resulted in a shot, initiated the lowest percentage of possessions in the middle third, and generated the fifth-lowest xG per possession containing a shot.
Expected Play: Gimnasia's chance creation was anemic; their 0.86 xG per 90 minutes was the lowest in the Superliga. They didn't take very many shots from open play, but the quality of those shots was lacking. Gimnasia generated 0.074 xG/shot, 0.01 units below the league average and third-worst in the division.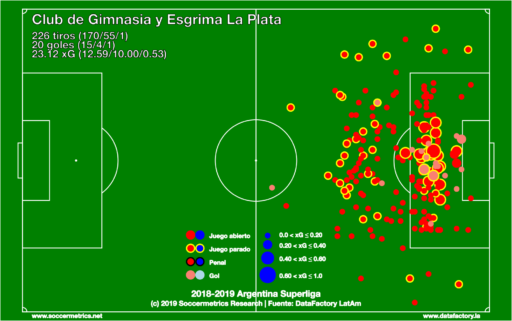 Defensively, el Lobo allowed 1.41 xGA/90, third-most in the Superliga. What was most concerning was their defense of set pieces. Gimnasia conceded more shots from set plays than any other side except Newell's, which translated to 16.7 xGA from set plays. That they conceded just six goals from those plays spoke to their good fortune.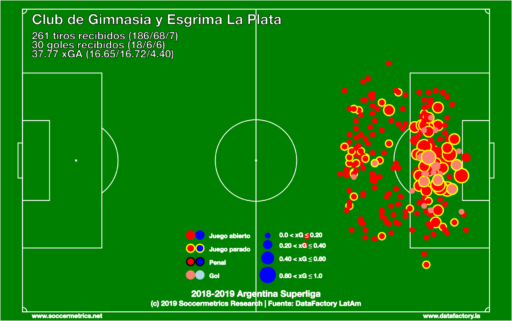 Individually, Santiago Silva led the team in expected goals (4.11 xG), followed by teenage striker Jan Hurtado. Víctor Ayala led the team in expected assists (1.77 xA), supported by Lorenzo Faravelli (1.66 xA) and to a lesser extent by Silva (1.46 xA). Alexis Martín Arias was Gimnasia's primary goalkeeper and played 2123 minutes, allowing 1.10 goals per 90 minutes and 5.9 more goals than expected. His six clean sheets was in the bottom third of all primary goalkeepers in the division.
Best Game: Gimnasia's 2-1 win in matchday 10 over Boca Juniors. And a richly deserved win, too.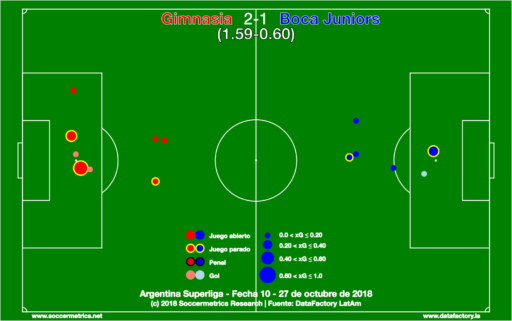 Worst Game: Atlético Tucumán walloped Gimnasia 4-1 in matchday 16. Two penalties against El Lobo didn't help.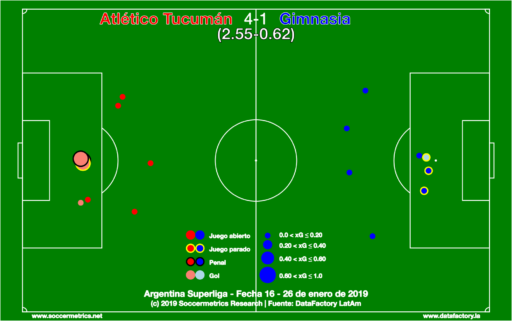 Best Player: Santiago Silva, Gimnasia's leading goalscorer and the only Gimnasia player in the top 50 in total xG+xA.
This review has been prepared with match event data supplied by DataFactory Latinoamérica.