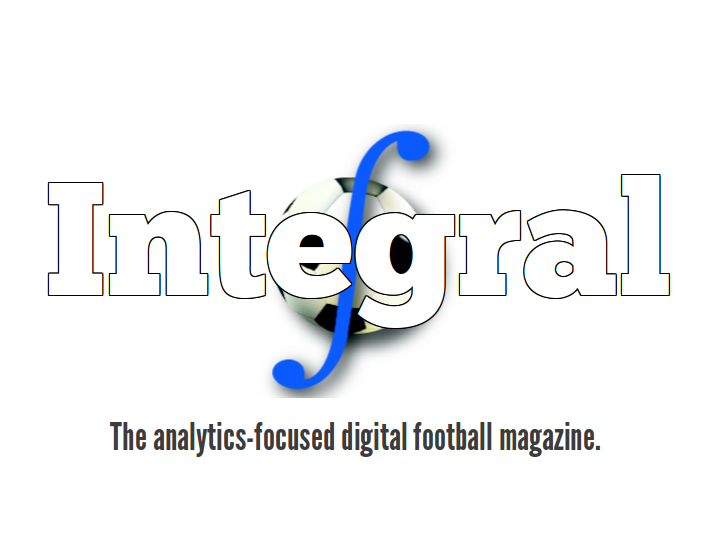 We are very excited to bring to you Integral Magazine: a fully digital, analytics-based football magazine for stats-obsessed football fans and anyone else interested in understanding their favorite sport in a different way.
Our Kickstarter Campaign page is here.
Soccer has experienced a slow evolution in the use of data to understand the game and make better informed decisions, but soccer analytics has erupted in the last ten years with the formation of sport data companies, sophisticated data collection technologies, and a legion of professional and amateur analysts seeking to make sense of the torrent of match data.  Fantasy football, once a niche activity of the "stattos", has become a mainstream activity with over 2.5 million players of the English Premier League's official fantasy football game in 2012-13.
There has not been a football magazine oriented at the fantasy football fan — until now.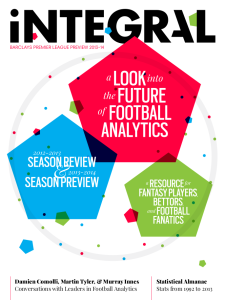 With Integral Magazine, we want to place the industry's latest analysis and information in your hands. We will feature leading soccer analysts and showcase their work in understanding the game.  We also have interviews with leading figures in the game, such as Damien Comolli and the voice of English football, Martin Tyler.
Whether you want to destroy your fantasy leagues, make better bets, or win your argument on who's the better player, this magazine will give you the information you want! Our first release will be August 15th and will preview the 2013-14 English Premier League season.  Future release will preview the upcoming UEFA Champions League season, the 2014 Major League Soccer, and the FIFA World Cup in Brazil.
Want more details? Visit our Kickstarter Campaign page!
So why are we doing a Kickstarter?  Well, we want to produce a professional and polished product, so to that end we're working with the best digital publishers and writers so that we can focus on developing analytical content.  Those services don't come cheap, and we've already committed a lot of resources to this project.  That's where our readers come in.
We can't tell you how grateful we are to the football analytics community for their support over the years.  We were present at the creation of the football analytics movement and we've gone on to do some exciting things, but we haven't forgotten our roots.  We don't believe that analytics in football should be confined to the clubs and the leagues, but rather it should become part of the conversation that we have about this beautiful game.  Integral will the start of that conversation with your support.
We're looking to raise $15,000 by the start of the Premier League season, which isn't a lot of time to be sure.  But if 1,500 of our monthly readers and/or Twitter followers give just $10, we'll meet our goal.  If 1,000 give $15, we'll meet our goal.  But we have a number of awesome rewards in appreciation of your support, from stickers, shirts, and scarves to featured contributor status and tickets to the MIT Sloan Sports Analytics Conference and the Leaders Summit.
We believe that Integral Magazine is going to be awesome, and if you feel the same way, we would be honored to receive your support.  Thank you!
Support Integral Magazine!  Make the pledge at our Kickstarter page!