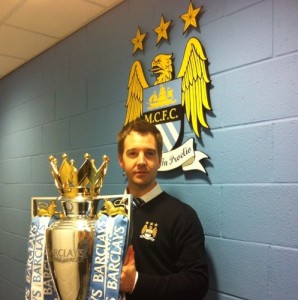 Gavin Fleig is the head of the Performance Analysis Department at Manchester City Football Club, the newest champions of the English Premier League.  I've known Gavin since we met at the 2011 MIT Sloan Sports Analytics Conference, and he was always a natural choice for an interview, but City's league triumph was the perfect moment.  And what a moment!  I caught up with him a few days (a couple of weeks, actually, thanks to his honeymoon) after the finale to get what I believe is his first interview since that famous day.  The result is an interview that was so good, we broke it up into two parts! We will be releasing the second part of this interview to the subscribers of the Soccermetrics Newsletter next week.
[Interview originally conducted 9 June 2012.]
(Howard) First of all, congratulations on winning the Premier League! I can only imagine the emotions the team and staff have experienced over the 90 minutes and especially at the end.  Your thoughts?
(Gavin) Thank you and perhaps now a couple of weeks after the game it is far easier to be clear of my thoughts.  The build-up to the game was, as you would expect me to say, no different to others, but it genuinely wasn't.  After the run we had been on winning the last 5 games, seeing the 8pt gap reduce to goal difference and then beating Newcastle away the previous week, in what I think was one of the best performances of our season, there was more excitement of the opportunity than any anxiety.  The manager, staff and players were professionally just going about their business.  I think what followed in the 95 minutes of the game was something that you would typically say could only be written, but football keeps coming back to show you that anything is possible I guess.
At 0-0 I was confident the goal would come by the way we were playing.  At 1-0, given how dominant we are at home, I believed we would push on an make the game secure.  At 1-1 it was a set-back, but against the run of play, an uncharacteristic mistake by Joleon and it was a frustration rather than a fear, we had 35mins left, at the Etihad, we'd won 17/18 of our home games so far.  When QPR scored to make it 1-2 strangely my mind immediately went back to games v Burnley & Fulham (h) in 2009 and Sunderland (h) only 6 weeks earlier, that feeling of "how is this happening?". Even then I knew we would come back into the game, we would score.  QPR were defending well, but playing a dangerous game conceding all the possession to us and defending so deep. It's that belief you have in the players ability I guess, although I was preparing myself for sheer despair as the minutes disappeared.  I remember saying to myself "if we score before 70min we'll be ok", then again, "ok, if we score before 80 mins we'll still have over 10mins, we can do it".  The board went up for 5mins added time, and I remember my saying to my colleague Ed Sulley, if we score one quickly, we'll get 1 final chance.
I guess the question is do you ever really believe it when you say it, sometimes it may be more clinging on to hope, but what I always think is that if a game in the NFL and NBA can be controlled and won with only seconds to go, then why not in football?
The rest of that 5 minutes you know the outcome, it's possibly the most exhilarating, anxious and ultimately euphoric 5 mins I'll ever experience and I feel very lucky and privileged to have been some small part of it and if a more dramatic end to a season is ever seen it will definitely have to have been written!
So, with that out of the way, tell me a few sentences about yourself.  
I am Head of Performance Analysis at Manchester City Football Club, the team I supported as a young boy, and have worked here for 4 years now.  I followed a coaching and analysis BSc degree pathway, having never been good enough to make the grade as a player myself.  So because of that I spent my teenage years coaching as much as I could in the UK and also the U.S during the summer months, taking in as many coaching clinics and qualifications as I could at that time.  I had a particular interest in the areas of Sports Analysis, the Coaching Process and Sports Psychology during my university years and achieved a 1st Class degree which spurred me on to take an MSc in Performance Analysis.  It was the 1st year that a course of its type had been put together and it coincided really with the emergence of Performance Analysis as a growing discipline within Football over the previous couple of years.
How did you get started in performance analysis?
My first job in analysis after the MSc course was as Head of Academy Performance Analysis at Bolton Wanderers, the leading club at the time for this discipline and a club who were the first to employ a full-time analyst into their youth academy.  It was there, working with some very good people such as Mike Forde, David Fallows and Sam Allardyce that my experience and application of Performance Analysis grew quickly and continued to do so for 3 years until I joined Newcastle United in 2007 and then Manchester City in 2008.  I also had the fantastic opportunity during my time at Bolton to work at the 2006 World Cup with the Tunisian National team, which gave me the experience of tournament football and the demands which that entails.  Needless to say, watching the European Championships from home this year will be slightly easier!
Football is historically a working class game, especially in England, and it was almost unheard of for a university graduate to get involved with the sport.  Has much has that sentiment changed in professional football?  
I think this has changed significantly over the past 10 years as the game has become increasingly more professional and aware of the value that can be brought into all aspects of the elite performance environment.  The growth of Sports Science, game preparation, technical scouting and the development of sports medicine, to name a few areas, has certainly strengthened the route into professional football for university graduates and indeed also former players who have picked up their education through the P.F.A and F.A.  I believe it comes down to the value that an organisation places upon those areas mentioned and therefore the skills it requires in the staff who fulfil those roles.  Every team at every level is striving to improve and clubs are looking at every way possible to gain an advantage.  In fact, in most cases now, the candidate requirements for jobs in football outside of coaching often are to have passed through a degree pathway.
How long has the Performance Analysis department been in operation at Manchester City?  How large is it?
There has been Performance Analysis support for around 10 years at Manchester City, but not always as recognised department, more an arm of Sports Science as many clubs have been and some continue to do.  In fact in the very early days between say 2001-2005, the support was mostly unpaid and not formalised.  Matt Hockin, who is now Player Liaison Officer at Blackburn FC was actually one of the first supporting roles in analysis here.  Simon Wilson joined Manchester City as the 1st Team Performance Analyst (now Strategic Performance Manager at the club) in 2006 and began to create a 'department' with its own identity within the football club and created space for specialist roles in pre-match, post-match, recruitment and elite development analysis.
It was really in 2008 when the Performance Analysis department, as it is now, began.  It has evolved over the past 4 years and with Simon moving into his new role in 2009 it gave me the opportunity to move from pre-match analyst to Head of Performance Analysis.  The department now consists of 10 full-time staff which cover every age group and every player within the football club, around 250 players.  Six of those staff deliver age appropriate learning within our Youth Development programme, from U9-U21, providing a curricular based analysis pathway that compliments our coaching model and focuses on individual development at every level.  In total there are over 220 young players which we provide support for and our work focuses on their stage of development, whether that be technique and acquisition of skills, game understanding, learning through self-reflection, decision making or preparing to win.  Within the 1st Team environment we have 4 full-time staff, including myself.
What motivated the club ownership to allocate the funds for a Performance Analysis department?  
Vision, clarity, understanding and value added.  The scope of support that Performance Analysis can provide across the club is one that needs to be understood and communicated effectively.  Fundamentally, within the football department the focus is on quantifying and objectifying performance to provide evidence based information for creating game plans, analysing performance (and subsequently aiding with future team selection), supporting the development of players and the recruitment of new talent.  In order for a club to support the vision of one of its departments it needs to understand the services that it provides and the way in which the information it generates is used on a day to day and game by game basis and also how it can support the greater business needs.
Alongside the direct support we provide to the coaches and players, our current vision in Performance Analysis is built around some of the strategic priorities of the club for the next 5 years and our focus is on contributing towards sustainability through our player asset management.  It is important in my opinion that a Performance Analysis department also looks outside of the four walls of the training ground and understands the wider business needs.  Our club website (www.mcfc.co.uk) recently won the Sports Website of The Year for the excellent work it does and part of their unique service to fans is the content it provides, behind the scenes, youth team coverage, training ground content etc and this is an area we contribute towards too.  When you look closely at the range of content in video, data, insight and analysis that Performance Analysis can create it has huge sharing potential across a number of areas and becomes an information hub for many departments.
[To be continued in Part II]