There have been reports this week from Argentina and here in Atlanta that Newell's Old Boys defender Franco Escobar could be on his way to MLS side Atlanta United.  The reports claim that the negotiations are at varying stages of development, but they all indicate that Escobar is more likely to join the team than not.  So what do the match data say about Escobar, and if he signs, which tendencies might Atlanta United fans see in 2018 and beyond?
First of all, some background on Escobar and his professional football career.  He is 22 years old (born 22 February 1995), 1.80m/5'11" tall, and a product of Newell's famed youth academy.  He first appeared in Newell's first team in 2015, appeared in 7 matches (5 starts) during the 2015/16 Primera season and 12 matches (12 starts) in 2016/17, but has not left the substitutes' bench in the current season.
This analysis will be based on Escobar's performance in the 2016/17 Primera División season, for which I have access to data, and I'm going to focus on his tendencies in the field using passing wagon wheels and passing network maps.
In the early part of the tournament, Escobar (who wears number 36) was used as a center back.  In the match against San Lorenzo he was very significant in Newell's passing network (second only to holding midfielder Diego Mateo), but this wasn't always the case in league matches.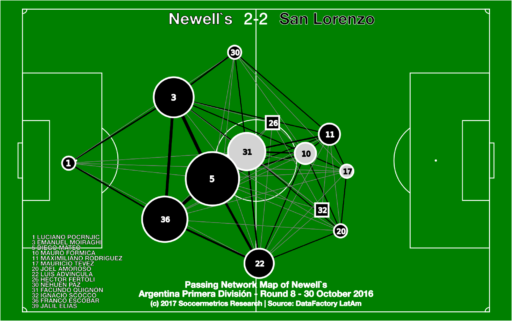 (Quick aside about these passing network maps: Numbers are the players' shirt numbers (number-to-player key on the lower left), the size of the circle is proportional to total completed passes received and taken, and line thickness is proportional to number of passes between two players.  Grey lines represent less than four passes between two players. Grey circles are players subbed out, and squares are players subbed in.)
Most of his passes during this part of the season were directed toward his center back partner or the right back in the 0-45 degree sector.  While his short and lateral passing was consistently good (short meaning 30 meters or less), his long passing (30+ m) toward the front lacked accuracy.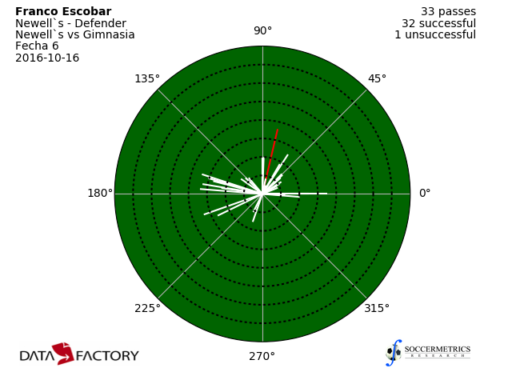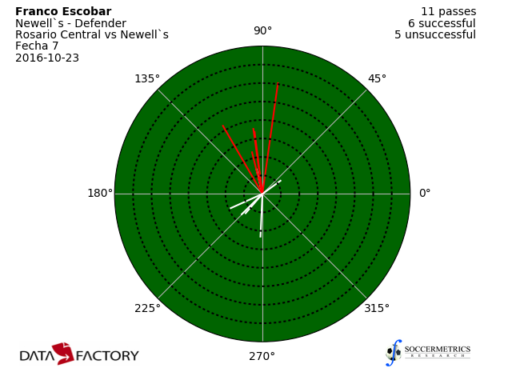 (Another quick aside: in the passing wagon wheels, the player is fixed in the center of the map and his face is looking straight ahead, or toward the top of the map.  The concentric circles are ten meters apart.)
Escobar's participation in the first half of Newell's season was feast or famine — he was either starting or on the bench, and for much of the first half he was on the bench.  After his match against San Lorenzo, his next appearance in the league was at home to Banfield in Round 12.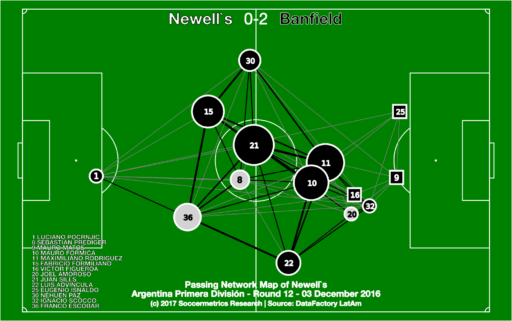 Once again he was deployed as the right-sided center back and most of his work involved connections with his center-back partner, the two deep midfielders, and the right back Luís Advíncula.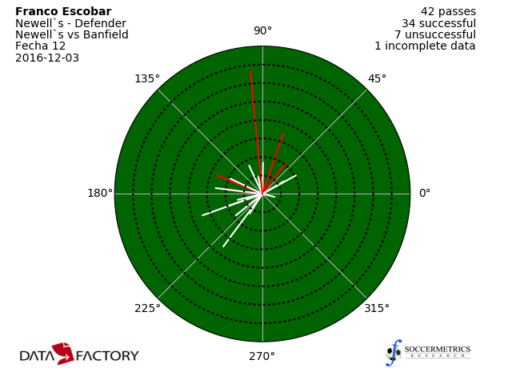 In the latter phase of the season, Escobar was back in the lineup after Advíncula left for Liga MX and Advíncula's replacement, José San Róman, got injured, and never lost his starting position after the derby against Rosario Central in Round 24.  In the match against Central and against Boca Juniors the following week he was a right back and playing outside the wide midfielders.
In both games he appeared to link up better with the midfield (this was more apparent in the match against Boca), but long passes over 30 meters continued to be an adventure:
Nevertheless, he held on to the right back position for the remainder of the season, and he was part of a Newell's defense that allowed fewer expected goals from set-piece situations than any other team in the championship (they allowed four actual goals from set-pieces, tied for fourth in Primera).
So what does this mean for Atlanta United?  The conventional wisdom is that if Escobar arrives, Anton Walkes will almost certainly return to Tottenham (Tyrone Mears is expected to be gone anyway).  Escobar has gained experience playing on the right side for Newell's and appears to be fine with overlapping the wide midfielders on the right flank. His short range passing is excellent and could fit in well with Gerardo Martino's commitment to building play along the ground from the back.  He appears to get involved in the game but more so in tackles than in interceptions. He is, however, very weak at hitting accurate balls over 30 meters, which is something that Walkes also struggled with.
There are other considerations that come into play with this acquisition — Escobar's age, his position, his (and Martino's) connections with Newell's, finances, and more.  Escobar will almost certainly not be a DP, and he may not come as a TAM or GAM player, either.  He's not even the best right back in the championship; I'd give strong consideration in that regard to Gino Peruzzi of Boca Juniors.
In the final analysis, it appears that Escobar is looking for a situation where he will get more playing time and continue to advance in his career.  Atlanta United has positioned itself as a destination for young upwardly mobile South Americans, and if Escobar does arrive, there's a very good chance that he will start.  He wouldn't be a bad acquisition, but a number of things have to go right for it to be a hugely successful one.
Data for this analysis came from DataFactory Latin America, which is the official sports data supplier for CONMEBOL, CONCACAF, and domestic and international competitions in both regions.