In this post I present the effective playing time of all matches of Argentina's Primera División tournament up to matchday 8, which was completed last Monday (1 November 2016).  Data was supplied by DataFactory.
I must point out that these time figures are unadjusted.  DataFactory doesn't record the moments in which a ball leaves play except for corner kick concessions, so I have to estimate the additional time lost due to throw-in and goal kick events, which DataFactory does record.  For details on how I plan on doing this, consult this post.
Here is how the effective playing time is distributed over all 120 matches played so far: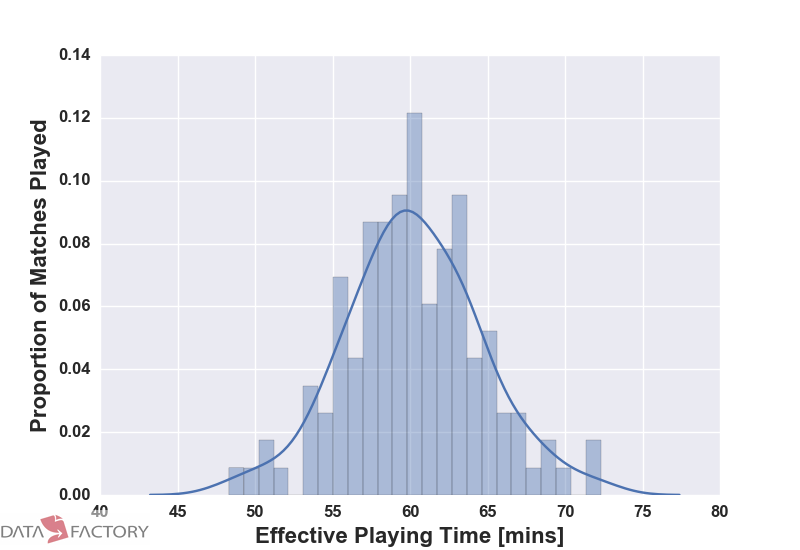 The average amount of effective playing time in the competition is 60 minutes 13 seconds.  Matches with the most effective time are the following:
Gimnasia vs Huracán, matchday 7, referee Andrés Merlos (72 minutes 18 seconds)
Huracán vs Rosario Central, matchday 8, referee Héctor Paletta (71 minutes 26 seconds)
Temperley vs Arsenal, matchday 3, Pedro Argañaraz (69 minutes 44 seconds)
And matches with the least effective time:
Aldosivi vs Colón, matchday 1, referee Germán Delfino (48 minutes 19 seconds)
Godoy Cruz vs Boca Juniors, matchday 3, referee Patricio Loustau (49 minutes 32 seconds)
Colón vs Talleres, matchday 3, referee Facundo Tello (50 minutes 48 seconds)
Again I must point out that these are unadjusted amounts of effective time, and they will be adjusted in a future post.  I'll also write more about the influence of the two teams and the match referee on effective time, if any.