A new season of the English Premier League starts on Saturday, and the interwebs are full of previews and predictions of what will happen over the next nine months.  I'll leave the previews to the journalists, but I will present expectations of the final league table here.
A lot of people are visiting this site for the first time, so an explanation of these projections is in order.  These league projections are a combination of expected goal statistics based on statistical output in previous seasons and the current squad (thanks to Aaron Nielsen) and my Pythagorean projection of team records based on expected goal statistics.  The projection is not perfect by any stretch and we'd like to project defensive performance better than we are now, but it's produced some interesting results.
So here is our projected Premier League table for 2014-15: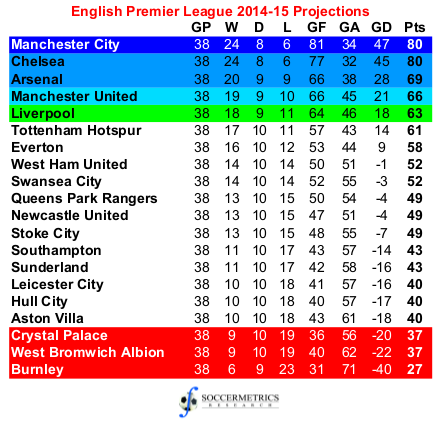 I'll preface these observations by stating that they are mine and not necessarily shared by Aaron.  Nevertheless, I project that the Premier League title will come down to Manchester City and Chelsea, with City just squeaking through on goal difference (and maybe even goals scored).  Given the uncertainty in predicting cumulative goals statistics, and the uncertainty in point totals in a table, the title is as good as a toss-up between City and Chelsea.
I project Arsenal to just finish ahead of Manchester United in third place and United to pip Liverpool to the final Champions League place.  These projections are a product of the expected strength of Arsenal's and Manchester United's new squads and the expected inability of Liverpool to compensate fully for Luís Suárez's departure.  The increased workload from Champions League play could adversely affect Liverpool's performance in the league, but we don't account for that in this league projection.
I think that if there are surprises in the table, it is the expected performance of the promoted sides barring Burnley.  In contrast to last season, when I projected that all three promoted sides would go straight back down, this time I am projecting that QPR and Leicester City will stay up.  In fact, QPR appear to have a side that can finish in the top ten if you only look at the high-priced talent of the squad.  Leicester City will suffer from lack of depth and experience, but they might be able to survive by a thin margin.
Burnley, a side which many pundits and analysts (including myself) predicted to be relegated from the Championship, are living the dream.  Unfortunately few people expect the dream to last very long and I must admit to being one of those people.  West Brom narrowly avoided relegation last season and may not be so fortunate this time if Leicester and QPR get used to live in the Premier League.  Crystal Palace simply played over their heads last season and are candidates to regress back to the mean, which in their case would mean relegation.  If Tony Pulis can get his defense to perform ahead of expectations again (16 goals better), they might be able to approach their points total from last season.  If he can't, it will be a mad scrap to stay up.