Earlier in the month we had the privilege of attending the 2012 Leaders Sports Summit at Stamford Bridge, home of Chelsea Football Club.  It provided me an opportunity to reconnect with the contacts I made in the football community over the last twelve months as well as make connections to those who I had previously known online.  In addition to the conference we hosted a social event, introduced ourselves to London's tech startup scene, and attended Premier League matches for the first time.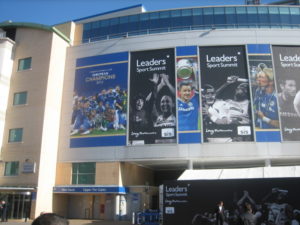 The Leaders Sports Summit is a set of five co-located conferences at one venue: Leaders in Football, Leaders in Performance, Leaders in Sponsorship, Leaders in Digital Sport, and Leaders in (Horse) Racing.  The flagship conference is Leaders in Football which attracts the major names in world soccer (as well as the international press), but this year all of those sessions were open to all conference attendees.
There were a lot of big names at the conference, from Jean-Pierre Meersseman of the Milan Lab to Mark Verstegen of Athletes' Performance to former Bolton player Fabrice Muamba, England manager Steve McClaren, and former international referee Pierluigi Collina.  The conference was hit by some unfortunate withdrawals, such as Ole-Gunnar Solksjaer (ex-Manchester United player and current manager at FK Molde) and Jeffrey Webb (new president at CONCACAF).  Webb took sick during his flight from North America to London and had to be hospitalized, and I was especially disappointed that he would not be able to talk about CONCACAF in the post-Warner/Blazer era.
The first day featured presentations in the morning by current England rugby manager Stuart Lancaster on the importance of instilling a positive culture that expects excellence and high standards and in the afternoon by John De Witt (NASA/Houston Dynamo), Jonathan Neale (McLaren F1), and Scott Drawer (UK Sport) on the intersection between innovation, technology, and human performance.  For me the highlight of the first day was the interview with Fabrice Muamba.  I think everyone who visits this site and those like it know what happened to him several months ago.  His recollection of his cardiac event, and his subsequent charity work to place more defibrillators in public places, served as an illustration of the importance of testing elite athletes to maximize athletic performance and identify possible defects such as Muamba's.
Day 2 was the "analytics" day of Leaders in Performance, and it was also the day that I attended more of the Leaders in Football sessions.  The first analytics session covered on-field analytics and featured Mike Zarren of the Boston Celtics and Nick Broad of Paris St. Germain (ex-Chelsea).  It seems that North American and European sport have much to learn from each other — Europeans tend not to realize the extent of number crunching that takes place in North American sport, and North Americans don't realize how much player tracking data are collected in a typical football match (at least by Prozone).  The second analytics session on business analytics featured lessons learned from the business and financial sectors, but I was expecting it to deal with front-office analytics so I felt a little disappointed.
Instead I spent most of my time attending the session on Major League Soccer and its business model.  Heading the panel were commissioner Don Garber, Adrian Hanauer (Seattle), Merrit Paulson (Portland), and Robb Heinemann (Sporting KC).  There's quite a bit of fascination in Europe with MLS' operations and their contradictions to America's free-enterprise system (the session was titled "Socialist football in the land of capitalism").  I think that there are several accidents of history in America's sporting history compared to Europe's — American sports leagues are formed from the top down instead of bottom up in Europe, and for better or worse, the practice of promotion and relegation never took hold in American sports.  At any rate there was a lively discussion on player contracts, fan interaction (Seattle's fan vote on the GM came up for discussion), and stadium finances, as well as the future plans for the league over the next 10-20 years.  The audience was genuinely surprised that the most recent derby match between Portland and Seattle drew 66,000 and there was some discussion of the success of the Pacific Northwest clubs.  This session was the day after the blockbuster USADA report on Lance Armstrong so the Sporting KC director received a number of questions on the future name of their stadium. I continue to be amazed that it is so much easier to interact with a MLS official in a conference in Europe than one in the USA.
As was the case last year the Leaders Summit provided high-quality contacts with executive-level personnel at football clubs and organizations all over the world.  But it wasn't just football — there were representatives from both codes of rugby, Australian rules football, cricket, athletics, and American football and basketball.  We're still processing through all the contacts we made during the conference, and we know that there are now a lot more people watching the site and learning more about us.
I'll have more to write about our experience with London's startup community and of course our baptism into Premier League fandom.