Superliga 18/19 Record
Won 4, Drawn 11, Lost 10 (23 points)
Superliga 18/19 Position
26th
Relegation Average
0.920 (23 points/25 matches)
Relegation Position
26th (Relegated)
Copa de la Superliga Result
Lost in First Round to Unión (4-1 agg)
Goals Scored
25 (12 open, 10 set-piece, 3 penalty)
Goals Allowed
37 (27 open, 4 set-piece, 6 penalty)
Leading Goal Scorers
Claudio Bieler, Lucas Acevedo,
Luciano Pons, Alberto Costa (4 goals)
Leading xG
Claudio Bieler (4.98 xG)
Leading xA
Matías García (2.72 xA)
Primary Goalkeeper
Jorge Carranza (1.65 GA/90, +14.6 GAAx)
Team Disciplinary Record
57 yellows, 5 reds
San Martín de Tucumán were always up against it from the moment that they earned promotion. They won the B Nacional playoffs on the strength of Claudio Bieler's goals (remember him, Sporting KC fans?) and timely contributions by Lucas Acevedo, and they did add some experience in midfield through Alberto Costa. But aside from Acevedo, who plays center-back, the defensive unit was out of its depth. San Martín's defense didn't allow opposing teams more possession than the league average, but the percentage of opposing possessions containing at least one shot was close to the league worst and the xGA/possession was the highest in the division.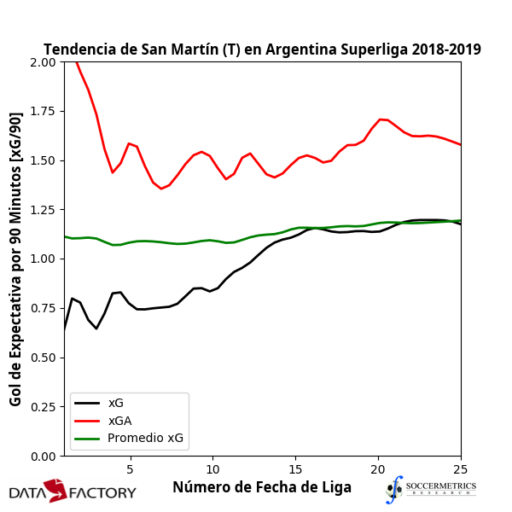 La Ciruja weren't doing too badly out of the blocks as they scraped together a series of draws and unlikely wins, and they weathered a weird manager swap between Rubén Forestello and Walter Coyette at the two San Martín clubs. (The xGA spike at the beginning of the season is misleading because the Round 1 match was actually played in early November.) But the promedios system is merciless on newly promoted sides, and winning a point per game was never going to be sufficient. The New Year was a disaster for the red-and-white tucumanos as they won just two of 18 points from January to early March. By then, Coyette was gone and San Martín's future lay in one direction: down.
Managers: Caretaker managers aside, San Martín de Tucumán had three managers over the league season. Rubén Forestello had brought the club up from the second tier and was in charge of the side for their first four Superliga matches. He failed to win a match (drew two) and the performances of his players didn't merit any more than that. Coyette took over for 14 matches and oversaw three of the four league wins, but the team was just barely meeting expectations. That's not good enough when San Martín is averaging 1.07 points per match. Ricardo Caruso Lombardi took over in March, when Ciruja's chances of staying up were long gone. They actually created more in terms of expected goals than they allowed (7.19 xG vs 5.89 xGA), but the end result was one win and two draws from five matches.
Formations: San Martín's lineup never stabilized over the Superliga season. Only two starting lineups were replicated over the 25 matches, and both occurred during Coyette's tenure in matchdays 13 and 14. What's even more interesting is that this lineup was a formation that was on the field for ten minutes in San Martín's 2-0 win against the other San Martín (San Juan). The formation was a narrow 4-4-2 in which the ball circulated through wing-backs Ramón Martínez and Hernán Petryk, with the aim of getting the ball to Matías García on the left as quickly as possible. García was the most important player in San Martín's passing networks (minimum 15 matches played).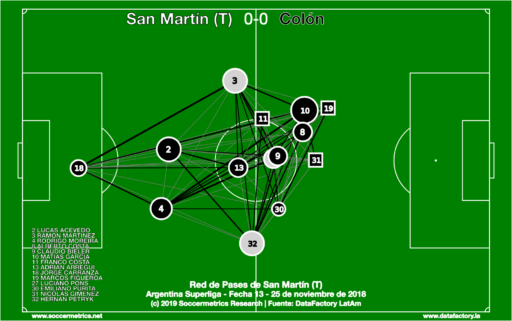 When it came to making entries into the final third, it was García, Bieler, and no one else. García ranked 16th in left flank final third touches per 90 minutes (9.7), and Bieler ranked 4th in center flank final third touches per 90 (18.4 touches in the region in front of the penalty area) but 25th in touches within the penalty area (5.6 touches).
Expected Events: San Martín's best generators of expected goals were Claudio Bieler (4.98 xG) and Lucas Acevedo (4.39 xG). Bieler created the bulk of his xG from open play (2.89 open/1.09 setpiece/1.00 penalty) while Acevedo created his from set pieces (0.77/3.62/0.00). Looking over a 90 minute period, only Luciano Pons had an xG/90 that was close to 0.250 (0.247, to be specific).
In terms of expected assists, Alberto Costa created 0.210 xA/90 in league matches, which was second in the Superliga among players with more than 900 minutes played. Only four other players — Juan Fernando Quintero, Fernando Belluschi, Gastón Fernández, and Guillermo Fernández — had a higher xA/90 metric. Matías García, who often played alongside Costa, created the second-most xA and xA/90 (2.72 xA / 0.113 xA/90) on the team. Costa was more of a threat from open play, while García had a slight advantage on free kicks. Rodrigo Gómez, who joined San Martín during the summer, also made a contribution from the right wing.
In goal, Jorge Carranza was present for most of San Martín's matches (1633 minutes), with a minor role for Ignacio Arce (600 minutes) and a brief cameo by Pedro Fernández (196 minutes). It's hard to get a clear idea of expected goalkeeper performance without knowing goalkeeper position during shots faced, but the actual and expected metrics don't make for pretty reading. He allowed 30 goals in total (24th of 28 goalkeepers who played more than 900 minutes) and allowed 14.6 more goals than expected (28th of 28). Aged 38, it's hard to believe that Carranza would have a future at any top-flight side.
Best Match: Without a doubt the 3-2 win in the clásico against Atlético Tucumán will live long in the memory, but San Martín's best win this season was the 2-0 result against their tocayos from San Juan. In terms of expected goal totals, it was their best xG performance that resulted in a win.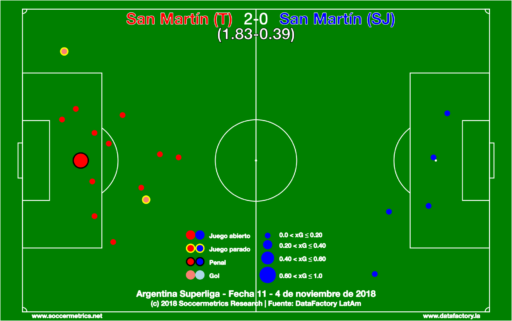 Worst Match: San Martín (Tucumán) 1-4 Boca Juniors in matchday 23. The memories of Boca fans go back a very long way. Don't think that there wasn't unfinished business from the 1-6 that San Martín inflicted on Boca in the Bombonera more than 30 years ago.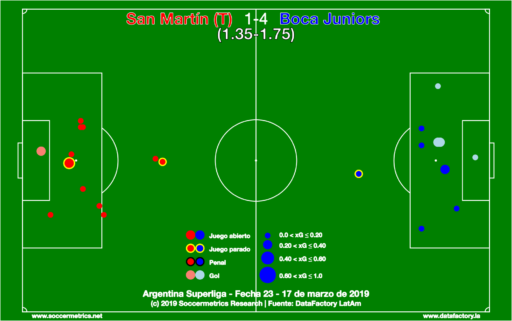 Player of the Season: Matías García and Tino Costa are strong candidates, but I would give Player of the Season to Claudio Bieler. He was among the team leaders in goals and assists while playing in a deeper role. At 35, he still has something to offer to top-division teams, which might explain why San Martín let him go to Independiente del Valle four rounds from the end.
This review has been prepared with match event data supplied by DataFactory Latinoamérica.