Superliga 18/19 Record
Won 6, Drawn 7, Lost 12 (25 points)
Superliga 18/19 Position
21st
Relegation Average
1.109 (91 points/82 matches)
Relegation Position
23rd (Relegated)
Copa de la Superliga Result
Lost in First Round to Talleres de Córdoba
(2-2 agg, 2-3 pen)
Goals Scored
(own-goals not included)
23 (16 open, 7 set-piece)
Goals Allowed
(own-goals not included)
34 (22 open, 7 set-piece, 5 penalty)
Leading Goal Scorer
Pablo Palacios (5 goals)
Leading xG
Marcos Gelabert (3.65 xG)
Leading xA
Claudio Mosca (2.08 xA)
Primary Goalkeeper
Luís Ardente (1.27 GA/90, +13.6 GAAx)
Team Disciplinary Record
60 yellows, 4 reds
San Martín de San Juan would not have been relegated in any of the previous three seasons — including the present one — had conventional relegation criteria been in use. But in a points-per-game system such as Argentina's, a performance of less than 1.2 points per game leaves a club navigating a narrow tightrope over the relegation pit. San Martín's points per game performance over the previous two seasons were 1.111 and 1.222. This season's performance of 1.0 ppg was a fatal slip, and the New Year brought about the fall.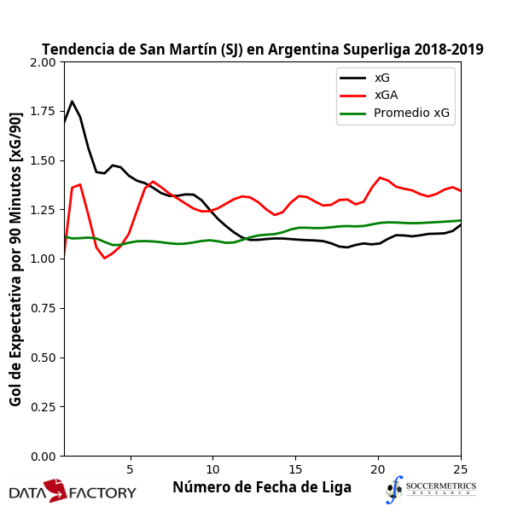 Managers: San Martín de San Juan had two managers during the 2018/19 season. The first was Walter Coyette, who had joined the club during the latter part of the 2017/18 season and led the team to an indifferent record: a win, two draws, and three consecutive losses with offensive and defensive performances worse than expected (6 goals vs 8.78 xG, 11 GA vs 8.73 xGA). Coyette was fired after the 3-1 loss to Atlético Tucumán and was replaced by Rubén Forestello, who had just left San Martín de Tucumán. His team's performances were marginally better in defense (23 GA vs 27.23 xGA), but with 1.053 points won per match, the Verdinegro continued to tread water in the relegation pool.
Formations: According to the Transfermarkt site San Martín, under both Coyette and Forestello, played a 4-4-2 with two holding midfielders. The key player in either formation was Marcos Gelabert, who was holding midfielder and had the highest network centrality figures on the squad (minimum 12 participations). Typically, Gelabert was positioned in front of the defensive line of four. Here is an example from a match early in the season when Coyette was still managing the side: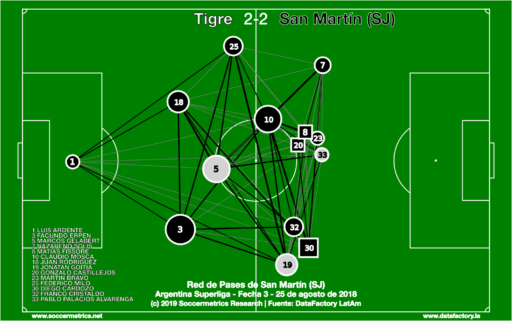 As the manager role was transferred from Coyette to Forestello, the lineup entered a state of constant change with three field exceptions: Gelabert, the attacking midfielder Claudio Mosca, and the striker Pablo Palacios. (Luis Ardente remained in goalkeeper for these matches.) Of the starting lineup that appeared in matchday 3, only the aforementioned three players remained in the lineup on matchday 14 when San Martín played Unión. Only five starters from matchday 14 — Gelabert, Mosca, Palacios, and right-sided defenders Juan Mattia and Gonzalo Prosperi — were in the lineup on matchday 19 when San Martín played Independiente. So San Martín's formation may have been relatively constant, but it was characterized by constant chops and changes and defensive and midfield units that rarely played together for very long.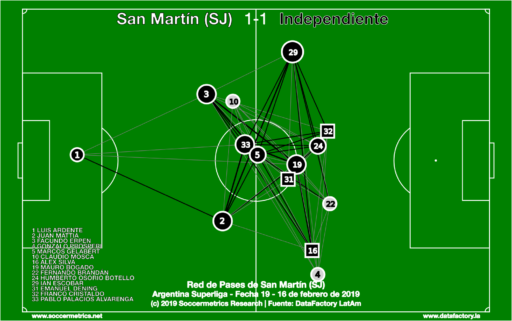 San Martín's possession statistics were indicative of a team that preferred to have less of the ball and attempt to score on quick transitions. Their average number of possessions (43.4) and on-ball time per match (21.7 mins) were in the bottom quarter of the league, but their proportion of possessions containing at least a shot was right at the league average (14.5%) and the average time to a (first) shot was the seventh-quickest. San Martín's defensive possession statistics were at or near the bottom in average number of possessions allowed (50.9), average number of passes per possession allowed (6.21), and average on-ball time allowed (31.7 mins).
Expected Events: At a team level, San Martín's expected goal performance were characterized by a poor defense and an offense that couldn't convert their chances. The offensive production was actually in line with the league average: 31.34 xG (15.68/15.02/0.63) but 23 goals actually scored (16/7/0).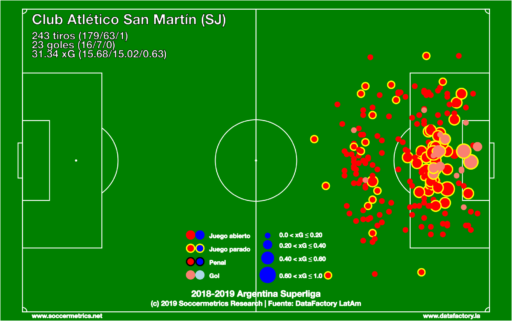 When it came to expected goals allowed, San Martín were firmly in the bottom quarter. They allowed the fifth-most xG and xG/90 in the league, the fourth-most xG from open play situations, and the fourth-highest amount of actual goals. Their defense of set-piece situations was poor — 0.270 xG per shot, worst in Superliga — and they were whistled for seven penalties, tied for the most in the division.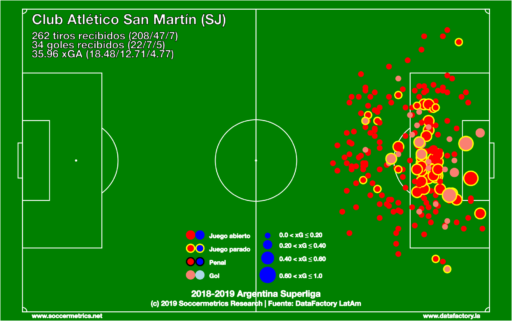 The leading expected goal creators in the team were Marcos Gelabert and Pablo Palacios at 3.65 and 3.62 xG, respectively. Palacios led the team (minimum 900 league minutes) with 0.219 xG/90 and finished 37th of the 297 Superliga players who met that league minimum. In terms of expected assists, Claudio Mosca led in team in total xA (2.08 xA) but Nazareno Solís — on loan from Boca Juniors — created more xA/90 (0.102) on the strength of his ability to create opportunities from dead-ball situations. In terms of expected goals allowed, Luís Ardente had the fourth-worst GA/90 metric (1.27) and the third-worst GA above expected metric (+13.6).
Best Match: San Martín 3-1 Vélez in matchday 8. One of the few wins in which San Martín had an xG advantage, and one of the better ones. Gelabert took full advantage of a set-play to take the lead, and then Solís made sure of the points in the final moments.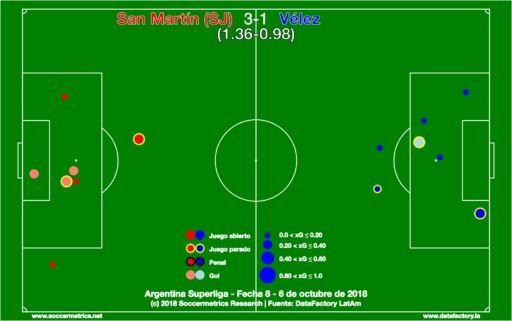 Worst Match: San Martín 0-4 Boca Juniors in matchday 12. Yes, Boca inflicts such a scoreline on a lot of people, but the bottom fell out from under San Martín after the half-hour mark. San Martín had one moment of relative dominance before Boca's opener, and by the time they would another moment they were 0-4 down. The second-worst xG performance for the Verdinegro.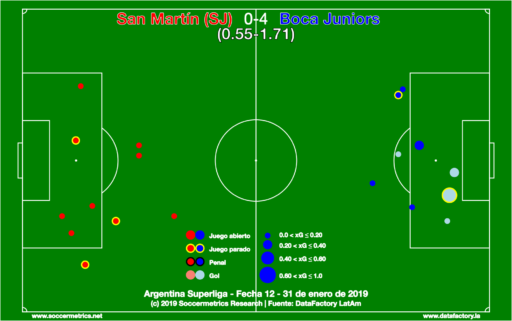 Player of the Season: I would give Marcos Gelabert the edge over Claudio Mosca on his goals and importance to the team as a holding midfielder. Aside from these two and Pablo Palacios, no one else merited consideration for best of the season.
This review has been prepared with match event data supplied by DataFactory Latinoamérica.