Superliga 18/19 Record
Won 9, Drawn 9, Lost 7 (36 points)
Superliga 18/19 Position
9th
Relegation Average
1.109 (91 points/82 matches)
Relegation Position
24th (Relegated)
Copa de la Superliga Result
Winners (def. Boca Juniors 2-0)
Goals Scored
(own-goals not included)
38 (30 open, 7 set-piece, 1 penalty)
Goals Allowed
(own-goals not included)
41 (26 open, 12 set-piece, 3 penalty)
Leading Goal Scorer
Federico González (11 goals)
Leading xG
Federico González (6.17 xG)
Leading xA
Diego Morales (3.09 xA)
Primary Goalkeeper
Gonzalo Marinelli
(1.48 GA/90, +7.8 GAAx)
Team Disciplinary Record
54 yellows, 5 reds
Tigre's demise in the league and redemption in the subsequent league cup had one salutary effect on Argentine football: they demonstrated to all those willing to see just how crocked and unfair Argentina's relegation criteria are. The arrival of Néstor Gorosito was a point of inflection in the team's performance, and they played the type of attractive, battling, and effective football that was missing for too long. Federico González was a revelation in the second half of the season, but el Matador was mired in the relegation pit because of their persistent defensive problems. They conceded too many scoring opportunities to the opponent, and they achieved just five clean sheets. Tigre had one 4-4 result and five 2-2 results. If they had allowed one or two fewer goals, they would have avoided relegation. But would they have been motivated for Copa de la Superliga knowing that they had already clinched Copa Sudamericana? The mind wanders, and wonders.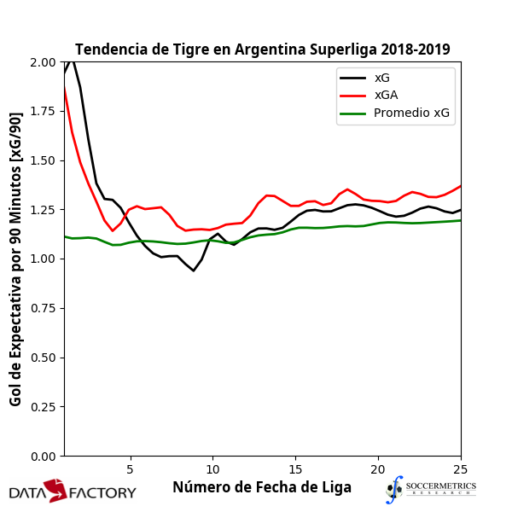 Managers: Tigre were one of the few clubs in this season's Superliga with three managers who had the role for a significant spell. The first manager of the season was Cristian Ledesma who led the team for their first six matches. The 2-0 defeat to Huracán ended his stay at the club, which featured one win, three draws (all by 2-2 scores), and two losses. The team was performing 1.7 goals below their statistical expectations (scored 1.3 goals more than expected, allowed 3.0 goals more than expected) and earning a point per game.
After a brief cameo by reserve coach Juan Carlos Blengio, Mariano Echeverría took over for 11 matches. His charges won three, drew three, and lost five of their matches, and he was fired after the gonzo 4-4 draw at home to Banfield. The team didn't have trouble scoring; in fact, their 16 goals matched their 16.8 xG and they only failed to score twice. But the defense was a disaster. Tigre let in 23 goals despite allowing the equivalent of 16.5 xGA, and they went more than three months without achieving a clean sheet. El Matador was earning 1.05 ppg and was all but lost to Nacional B.
The final manager of the season was Néstor Gorosito, the former San Lorenzo midfielder who had coaching stints at Argentinos, River and Lanús, and was returning for a second spell at Tigre. El Matador would turn around the season dramatically and raised hopes that, against all logic, they might escape certain relegation. Tigre went undefeated during Gorosito's stint (five wins and two draws) and performed 8.6 goals better than statistical expectations. No other manager spell with the exception of Gustavo Alfaro's at Boca Juniors saw his team achieve a better goal difference relative to expectations. In the end, Tigre couldn't escape relegation, but they continued to ride their ascendancy through the Copa de la Superliga.
Tigre were not a side that made many squad rotations during the season. Ledesma rotated eight players from the starting lineup, and Gorosito rotated just seven. Echeverría made an average of three rotations per match, more than the league average of 2.54 rotations.
Formations: Tigre's managers deployed their field players along four lines — a back line of four defenders and four or five midfielders distributed along two lines and positioned behind one or two strikers. Sometimes it was a 4-2-3-1, or a 4-3-1-2, or a 4-4-1-1. In his six matches in charge, Cristian Ledesma used one starting lineup on multiple occasions — against San Martín (San Juan) in matchday 3 and Aldosivi in matchday 4. The formation against San Martín starts looking like a 4-1-3-2 but transitions to a 4-1-4-1 by the end. Sebastián Prediger plays an important role as holding midfielder, as does Lucas Menossi on the right side of midfield.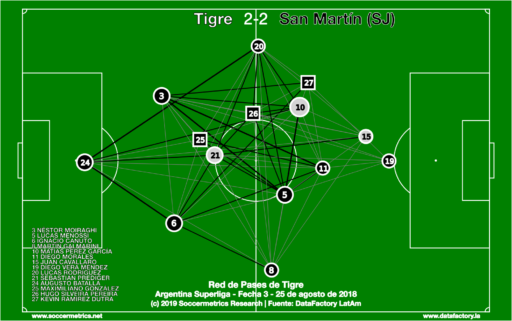 Mariano Echeverría's tenure was characterized by a plethora of formations and starting lineups. Echeverría made an average of three changes to the starting lineup from match to match, and not one starting lineup was repeated over his eleven matches. One of these lineups appeared in Tigre's matchday 9 encounter against Newell's Old Boys, in which Tigre appeared to play in a 4-4-2 that sacrificed a wing-back as they looked for a way back into the match. Once again Prediger is playing a pivot in front of the defense, but Martín Galmarini is connecting more with his counterparts on the left side.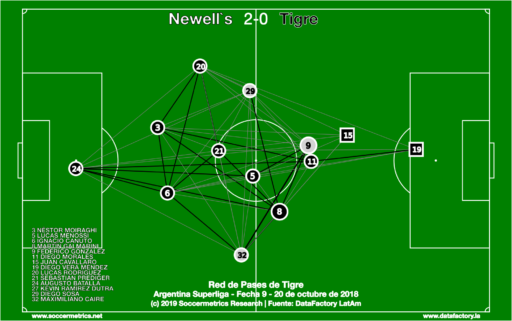 Néstor Gorosito's approach to managing Tigre appeared to have two objectives: (1) identify the best XI as soon as possible, (2) play that best XI as often as possible. By his third match in charge, he had decided upon his best eleven players. He proceeded to submit the same starting lineup in the next four matches (Vélez, Unión, Talleres, and Racing), for a total of 247 minutes. No other collection of players appeared as often in Tigre's league matches.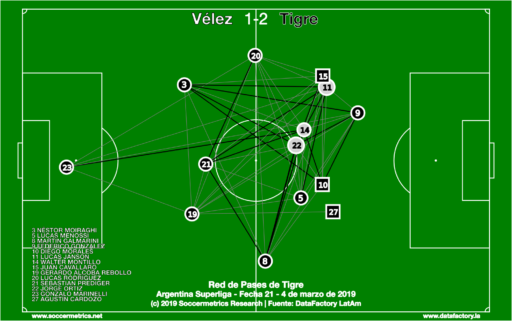 Over the entire season, Lucas Menossi was the most critical player (determined by eigenvector centrality) to Tigre's passing networks. Among those players who made more than 12 appearances, Walter Montillo, Diego Morales, and Sebastián Prediger were also important. Tigre were about average in some of the major possession metrics such as total number of possessions and total possessions with at least one shot, while being near the bottom in terms of time in possession, number of passes per possession, and time from start of possession to first shot. In defense, Tigre allowed about 3.2 more total possessions and 0.92 more possessions to produce a shot toward goal, while allowing more time on the ball and more touches per possession. In short, Tigre were a team that preferred to concede possession and counterattack quickly, but their defense was way too permissive to make that approach fruitful. Well, that was the case until Gorosito arrived.
Expected Play: The team-level expected goal statistics for Tigre described a team that was better than average offensively yet profligate in defense. Tigre were among the top ten Superliga teams in generating expected goals from open play (17.2 xG) and set pieces (14.3 xG), and tenth overall in xG/90 (1.26). But they were also one of the five worst Superliga teams in allowing total expected goals (36.5) and xGA/90 (1.37). Only two other sides — San Martín (Tucumán) and Godoy Cruz — allowed more expected goals from open play situations.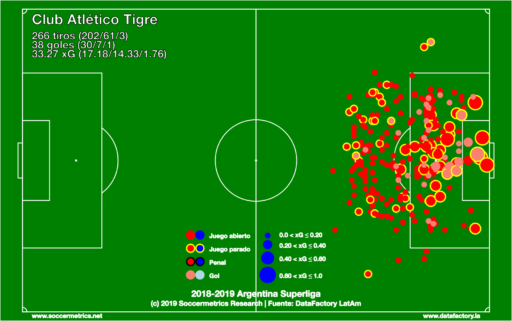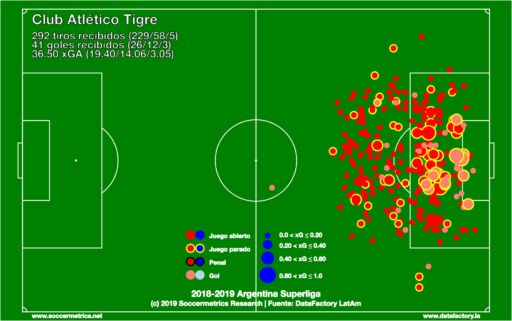 Federico González, Tigre's leading goal scorer, was the clear leader in expected goals. He also led in total shots, shots from open play, and xG/90. Diego Morales edged out Lucas Menossi in total expected assists, and enjoyed a more significant advantage in xA/90. Menossi was a bit more effective at placing the ball in dangerous areas during open play, but Morales was the leader in dead-ball situations, especially on corner kicks. The main goalkeeper was Gonzalo Marinelli, who in 1340 minutes of play allowed 1.48 goals per 90 minutes and allowed 7.8 more goals than expected. Tigre had two other goalkeepers who participated in league matches this season: Augusto Batalla (868 minutes) and Gastón Guruceaga (194 minutes). Their actual goals allowed per 90 minutes were much worse than their expected goals allowed, and by as many as an extra goal per 90 minutes!
Best Match: There were very few matches in which Tigre held their opponents under 1.0 xG. One of them was Belgrano 1-3 Tigre on matchday 23. Tigre scored all the goals — one of them an own-goal — and dominated control for a large majority of the match. The best match of Gorosito's tenure and one that gave them belief that they might escape relegation.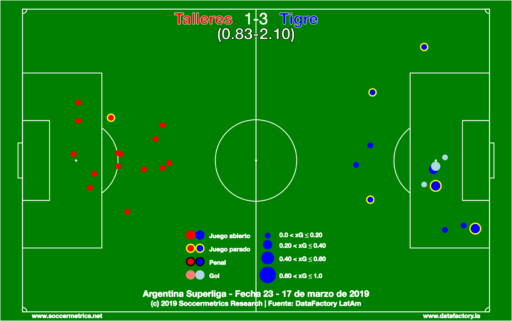 Worst Match: Newell's 2-0 Tigre in matchday 9. There were worse scorelines over the season, but Tigre were never really in this game.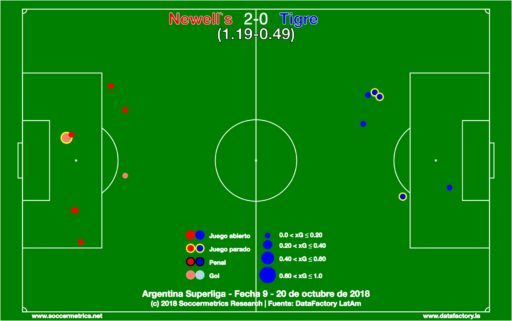 Best Player: It has to be Federico González, for his goals throughout the league season and the Copa de la Superliga.