Superliga 18/19 Record
Won 7, Drawn 5, Lost 13 (26 points)
Superliga 18/19 Position
19th
Relegation Average
1.134 (93 points/82 matches)
Relegation Position
22nd
Copa de la Superliga Result
Lost in First Round to Godoy Cruz
(2-2 agg; 4-5 pen)
Goals Scored
(own-goals not included)
29 (15 open, 8 set-piece, 6 penalty)
Goals Allowed
(own-goals not included)
36 (24 open, 10 set-piece, 2 penalty)
Leading Goal Scorer
Facundo Barceló, Gabriel Carabajal
(6 goals)
Leading xG
Facundo Barceló (4.33 xG)
Leading xA
Gabriel Carabajal (2.85 xA)
Primary Goalkeeper
Sebastián Bértoli (1.34 GA/90, +13.9 GAAx)
Team Disciplinary Record
60 yellows, 3 reds
Another team that finished well above the bottom four yet had a difficult time escaping the relegation zone. Patronato faced two moments of extreme danger during the championship: the early spike in xGA/90 and matching crater in xG/90, and the relapse in xGA/90 near the end of the year (matchday 14). El Patrón finished the season better than they started it, but better than average seasons in 16/17 and 17/18 allowed them to remain in Superliga for one more year.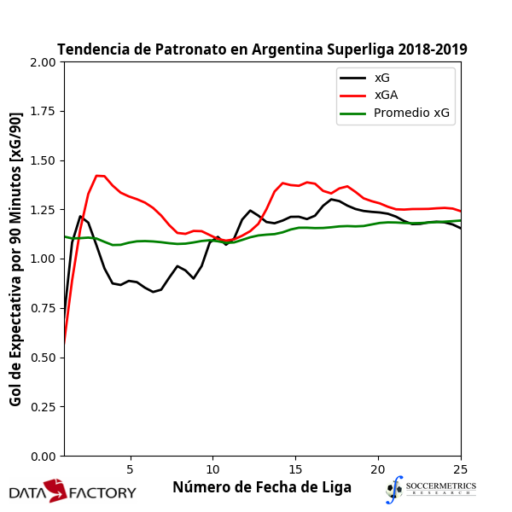 Managers: Patronato had two long-term managers during the 2018/19 season. The season was started by Juan Pablo Pumpido, the 36-year-old son of Argentina World Cup goalkeeper Nery Pumpido, and he managed the side for their first five fixtures. After drawing the first match of the season, losing four in a row, and failing to see his side score a goal, he was eventually replaced by Mario Sciacqua, who led the team from matchday 7 to the end of the season. Sciacqua turned around the team significantly. Patronato's goal performance closely approximated their expected performance (27 goals vs 25.6 xG, 27 goals allowed vs 25.2 xGA), and they earned 1.316 points per game. It was a stint that kept them in the Superliga by two points.
Formations: In Pumpido's brief tenure, Patronato played a 4-4-2 with two holding midfielders. Sciacqua deployed a similar formation, but also attempted structures in which one of the forward or holding players was positioned into the midfield. These latter formations featured the platoon of 11 players used the most (126 minutes), but they were less successful in terms of results, so Sciacqua reverted back to the 4-4-2 in 2019.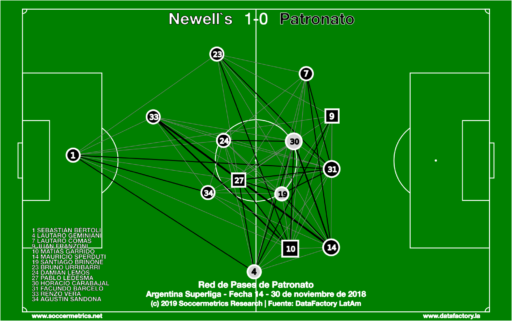 I found it very interesting to see that on the Transfermarkt page of Patronato's 18/19 season, their formation for the match against Tigre was described as a 4-4-2 diamond, and their passing network backs that description!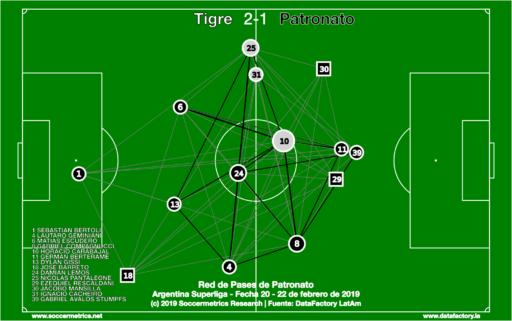 Patronato ranked at or near the bottom of the league in possession metrics, such as number of possessions, passes per possession, and time on-ball. No other team, with the exception of Gimnasia, produced fewer possessions that resulted in a shot. And no other team had such a large gap between possessions and possessions allowed. The data supports the view of Patronato being a very direct team dependent on counterattacks and set-pieces while being placed under constant pressure by the opposing team.
Expected Play: Patronato finished with a slight deficit in expected goals per 90 minutes — 1.15 xG/90 against 1.24 xGA/90. Their goalscoring was in line with an average team with similar expected goal statistics, and close to 30% of their goals came from set plays. Their defensive performance was in the bottom half of the league, with 17.3 xGA from open play and 14.2 xGA from set plays (24 and 10 goals allowed from those respective plays). The gap between actual and expected goals allowed from open play put el Patrón in the same group as Banfield, San Lorenzo, and Tigre, who were not envied company for much of the championship.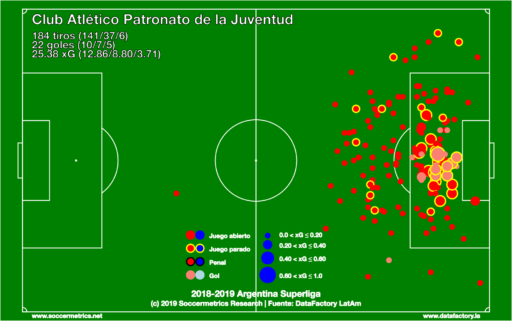 Patronato's leading goal scorers were also its leaders in expected goals. Facundo Barceló and Gabriel Carabajal, who each scored six goals, generated 4.33 and 3.51 xG respectively. Barceló was much more of a threat from set-piece situations, from which he scored three of his goals. Carabajal was more of a threat in creating opportunities from set-pieces, and his 2.85 xA led the team. Sebastián Bértoli, who played more than 2400 minutes in goal, had a high GA/90 (1.34) and a similarly high GAAx (13.9) with five clean sheets, but his final act in professional football was the reflex save on Argentinos' Jonathan Sandoval that kept them in Primera.
Best Game: Patronato 3-0 Atlético Tucumán in matchday 17 was their best xG margin, but River Plate 1-3 Patronato the week before has to be their best result. They didn't create a lot of chances, but they were devastatingly clinical as Gabriel Ávalos enjoyed a career day against the recently crowned South American champions.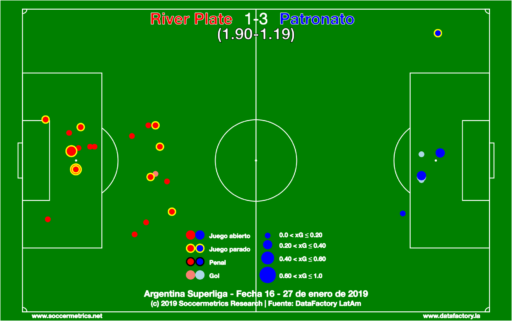 Worst Game: Belgrano 3-0 Patronato in matchday 22. El Patrón's worst performance in the league at the worst possible time.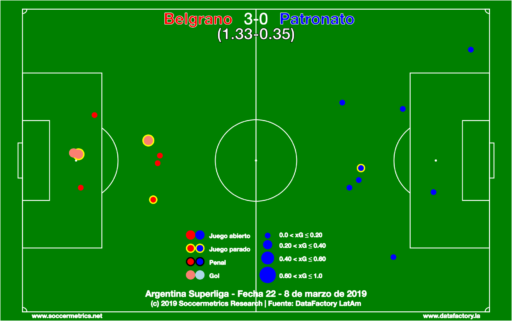 Best Player: Sebastián Bértoli's point-blank save will be remembered for a long time, but the player of the season is Gabriel Carabajal, who led Patronato in real and expected goals and expected assists, and was the hub of their ball distribution all season.
This review has been prepared with match event data supplied by DataFactory Latinoamérica.