Boca Juniors and River Plate have sucked up most of the oxygen in the Copa Libertadores, but the second semifinal tie presents an explosive matchup between two Brazilian powerhouses. Grêmio and Flamengo meet in an encounter of a recent champion (and semifinalist for the third consecutive year) and a side who haven't reached this stage of the competition since 1984 and haven't won it since the great Zico led them in 1981.
Grêmio and Flamengo took some blows in the group stage and rode their luck at moments in the knockout rounds, but have used their strength in depth to arrive at the semifinal round. In the first knockout round, Flamengo came back from a 0-2 deficit to level the tie against Emelec and then overcame them on penalties, while Grêmio cruised against Libertad. In the round of eight, Grêmio overturned a 0-1 home defeat to Palmeiras by scoring two goals in São Paulo to advance on away goals, while Flamengo took control of their tie against Internacional with a 2-0 home win and a 1-1 draw.
Grêmio and Flamengo have compiled the following expected goal performance through the quarterfinal round:
Team
Total xG per 90 min
(open/set/pen)
Total xGA per 90 min
(open/set/pen)
Grêmio
1.50 (0.83/0.61/0.05)
1.30 (0.62/0.69/0.00)
Flamengo
1.71 (1.04/0.54/0.13)
1.07 (0.57/0.41/0.09)
Flamengo is led by Portuguese manager Jorge Jesus, who has tended to set up his team in a tight 4-2-3-1 or 4-1-4-1 formation. His back line has been set — Rafinha anad Filipe Luis as the wingbacks and Rodrigo Caio and Pablo Marí as the center backs — with Gustavo Cuéllar in a holding role and Willian Arão or Everton Ribeiro in deep central positions. Up front the goalscoring role has gone to Gabriel Barbosa, who leads the team with five goals, with support from Bruno Henrique (3 goals). Both Barbosa and Henrique rank in the top 12 in total xG, and in the top five in xG from open play. The most significant creative threats for Flamengo are Éverton Ribeiro (fourth among Libertadores players in xA from open play), Cuéllar, and Arão.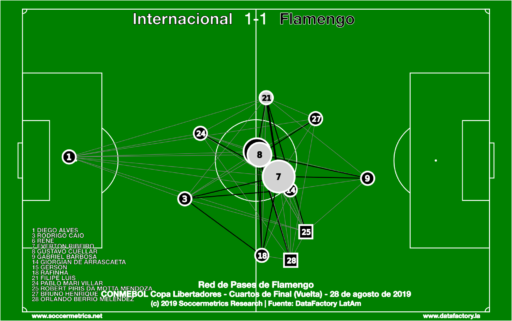 Grêmio, managed by Renato Gaúcho, has stayed with almost the same lineup throughout the knockout rounds. His center backs are two mainstays of the club — Pedro Geromel and Walter Kannemann — and his defensive wingbacks are Leonardo Gomes and Bruno Cortez. Gomes has more license to bomb forward from the right flank, and he ranks second among all defenders in xA from open play. In deep positions in the middle lie Maicon and Matheus Henrique, with Andre Felipe and Alisson (not the goalkeeper) positioned further up the field. Up front, Jean Pyerre serves as an important point of connection, and Everton is charged with goalscoring duties. Everton leads the team with four goals. Grêmio's success will depend on his ability to convert chances, and the ability of Maicon, Pyerre, and Henrique to create them.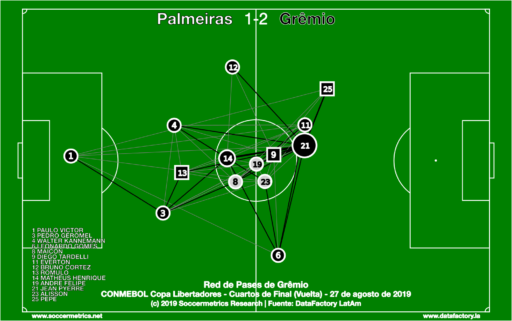 So what do I expect from this tie? One in which both teams have their chances over both legs. It will be decided narrowly, but in the end I expected Flamengo to win and advance to the final in Santiago.