Argentina's River Plate and Brazil's Flamengo, two footballing giants of their respective countries, will meet Saturday in the 2019 Copa Libertadores Final in Lima, Peru. It's the first Final of the neutral site era (although some might see the rescheduled second leg in Madrid as the true start of the era).
Last year's final was a high-wattage final because of the rivalries between the two teams, but the last two sides weren't necessarily the best in the competition. This year's final, in contrast, is a match-up between the two best teams in the Libertadores, or at least the two best teams in the knockout stage. One team — River Plate — is the defending champion who could potentially win a rare domestic/international treble (Copa Libertadores, Copa Argentina, Superliga). The other team — Flamengo — is a powerful blend of young and experienced Brazilian talent with European sophistication that has been dominant in league competition but is looking to return to the pinnacle of the continent after 38 years.
River Plate
Last year's continental champions distinguished themselves by midfielders who could control the match and win it with one swing of the leg, forwards who were adept at holding up play and converting at a high rate, and a goalkeeper who could save matches on his own. Pity Martínez, who was the best player of the knockout phase and South American Player of the Year 2018, went off to Atlanta United, while Juan Fernando Quintero sustained an ACL injury and only recently returned to match play. Everyone else has gotten a year older, which isn't bad when the player is younger than 30 but becomes a concern when the player is over 30.
River is led by former team legend Marcelo Gallardo, who has become a legend as the club's most decorated manager. Gallardo prefers to play a 4-4-2 in a diamond shape or with a double pivot (two holding midfielders). Regardless of the shape of the midfielders, he likes to have the wing-backs move forward, influence the play, and apply pressure to the opposing players in attack and midfield. Gallardo is known for adapting to the match and using his substitutes to turn the match to his favor.
River's offensive performance has been average among all knockout sides in the Libertadores. They generate about 1.50 xG per 90 minutes (0.75 open play/0.37 set play/0.37 penalty), which is good for sixth among the 16 knockout teams. They have taken their open play shots from field positions with poorer xG than all but six other knockout teams, none of whom advanced to the semifinals. They have scored just five goals over the entire knockout phase, three of which have been scored from penalties.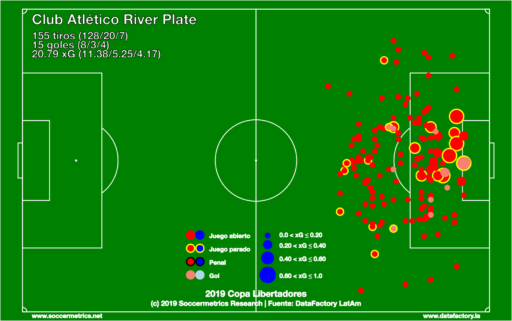 River's advantage in this tournament, and particularly in this knockout phase, has been their defense. They have allowed two goals in their six matches, of which one was scored in open play and the other was off a set piece. They have yet to allow a penalty kick in the knockout stage, and have allowed just one during the group stage. The result is a 0.97 xGA/90, which is good enough for 3rd of the 16 knockout teams.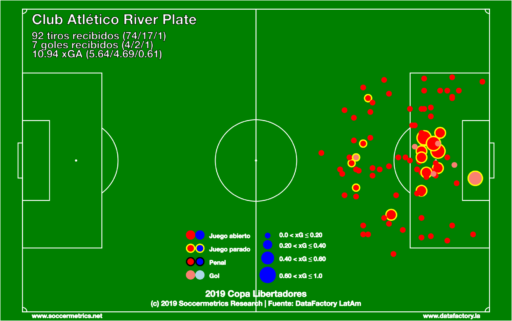 River's key performers in front of goal have been Rafael Borré and Ignacio (Nacho) Fernández, who have both scored two goals in the knockout phase. Borré has become the leading target man for River with 2.41 xG over his 400 minutes played. Matías Suárez has yet to score in this phase of the Libertadores, but has contributed 1.88 xG to the team effort. Fernández has generated 1.33 xG. It is very likely that Pratto and Suárez will start, and Gallardo has said as much during media availability this week, but it is also possible that Lucas Pratto, the hero for River on many occasions last season, will be on the bench and perhaps appear if needed.
Despite Quintero's absence, River have assembled a dominant midfield in the Superliga, and it has asserted itself in continental competition as well. Fernández, Exequiel Palacios, and Nicolás De la Cruz have become dominant figures in the domestic league. Of the three, Palacios is the pick of the bunch and the one with the best transfer value (Real Madrid is known to be interested, and new MLS outfit Inter Miami is looking as well). Palacios has created 1.01 xA over 547 minutes, which placed him among the best creators of expected assists in the Libertadores. Fernández is next in the team with 0.84 xA. The aforementioned trio will start on Saturday; Quintero will start on the bench, but if he appears, he could be very influential.
One more player who could have an impact is Enzo Pérez. Pérez (#24 shirt) is more of a holding or deep-lying playmaker who has been critical to the success of River's passing patterns. There was concern about an injured shoulder earlier in the week, but those concerns have been assuaged and it looks like he will start in front of the defensive line of four. As he goes, so will River.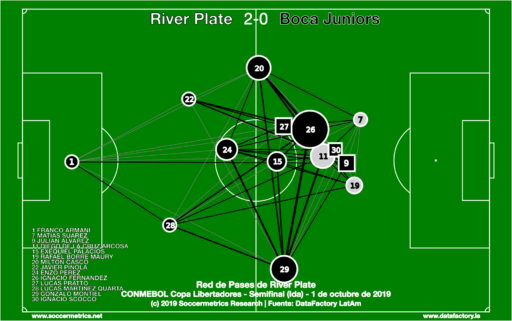 Flamengo
What makes Flamengo such a formidable side is that they have achieved success in the insanely demanding world of Brazilian football. Saturday will mark their 68th match across all competitions in 2019, which computes to a match every 100 hours. They have won the Rio State championship (which is still a big deal among the fans), they have all but won the Brazilian championship (as of this writing, they are a win or Palmeiras non-win away), and they have scored over 100 goals.
Flamengo is led by experienced Portuguese manager Jorge Jesus, who managed Braga, Sporting Lisbon, and Benfica before coming to Brazil in June. He became known for implementing European style, tactics, and preparation to a side that has European club experience (at least four players have come from Big Five leagues). He prefers 4-2-3-1 with a high defensive line, full-backs pushing up into offensive play, and a full field press. He has also been known for making few squad rotations, which may be a factor in Saturday's final but hasn't so far.
Flamengo have been far and away the most offensively dominant team in the Libertadores. They have scored 11 goals in the knockout phase, more than anyone else. They have generated more total expected goals and more expected goals from open play than any other side, and more xG/90 than any other side save one (Grêmio).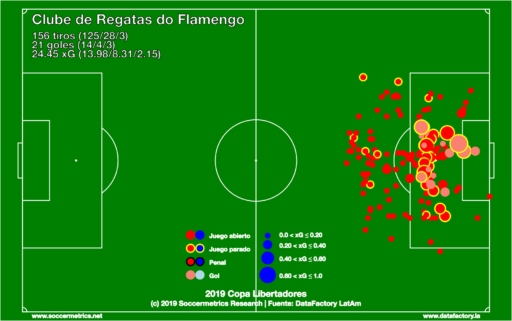 What has been lost in the conversation about Flamengo is that they are very strong defensively. They have allowed just four goals over their six knockout matches (three from open play, one from set piece), and just 0.82 xG/90, better than any other knockout side. They do a much better job of restricting their opponents from getting good looks at the goal, whether it's from open play or set play. And like River, they have not allowed a penalty kick event.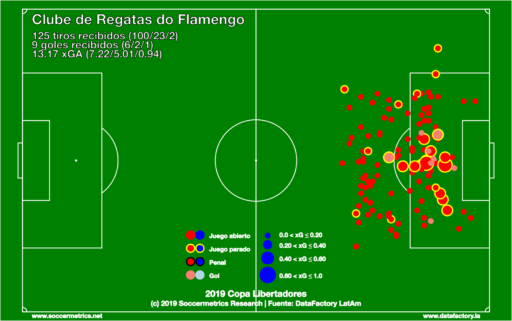 When you talk about key players for Flamengo, you have to start with Gabriel "Gabigol" Barbosa. He has scored 5 goals in the knockout phase from 3.95 xG generated. Yes, he converts at an above average rate, but he generated a very large number of chances. Barbosa's goals have been so huge for Flamengo that it's easy to forget about the contribution of Bruno Henrique. The midfielder who usually operates on the left has scored four goals from 3.11 xG, and all but one of his goals have occurred in the penalty area during open play, which indicates that he is making late runs into the box and converting. River will have to be aware of his presence at all times.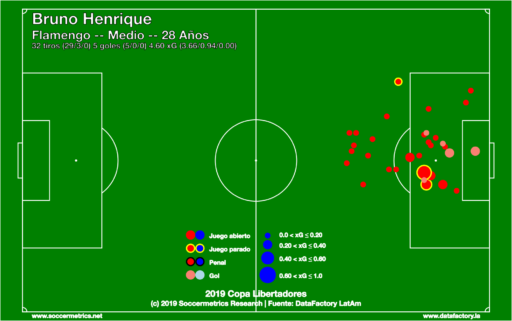 In the midfield, Gérson, Éverton Ribeiro, and the aforementioned Henrique are the key players to watch in terms of expected assists. Giorgian de Arrascaeta is also a threat as an attacking midfielder. The most dangerous player is Gérson, who operates in the center of the field. Rafinha and Filipe Luis can influence play through their marauding runs up the flanks. Willian Arão supports the center backs as the holding midfielder.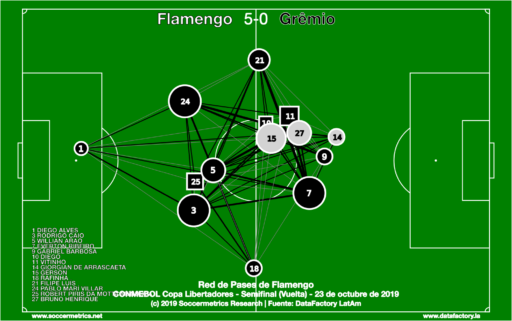 Prediction
Earlier in the week, I appeared on the Soccer Over There podcast to preview the final and predicted a final that was more European than South American, even by today's open standards. I predicted a final that ended 1-1 with Flamengo winning on penalties. I still believe that the final will end 1-1, but now I believe that if it goes to penalty kicks, River will come out ahead. The final will be a battle of talent, experience, and structure, and it should be a compelling spectacle.