These are the show notes for Episode #5 of the Soccermetrics Podcasts, with featured guest David Sally, co-author of The Numbers Game.  This episode was recorded on 7 November 2013 from the Atlanta office.

David Sally is a behavioral economist by training (Ph.D, University of Chicago) and a visiting professor at Tuck School of Management at Dartmouth College.  He and Cornell professor Chris Anderson founded the football analytics consultancy Anderson Sally and wrote The Numbers Game: Why Everything You Know About Football is Wrong, published by Penguin Books.  This book creates a bridge between the football analytics subculture and the broader football world, addressing basic but compelling questions and challenging long-held assumptions about the game that many people "know to be true".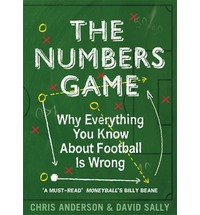 During our conversation, David and I discussed the following topics:
How David came to follow — and embrace — the beautiful game
David's partnership with Chris Anderson
The contributions of behavioral science to problems in football analytics
The surprising similarities of the Big Five European leagues
Short corners and short free-kicks
The problem with penalty shootouts
How do you measure a player's heart?
Web links to relevant resources that we referenced in our conversation:
You may subscribe to the Podcast through our iTunes page or listen to the show on the Stitcher app, available for mobile, tablet, and over 4 million car dashboards.
As always, we welcome your feedback on the episode, whether on content or technical matters.  You can make your feedback in the comments section (recommended for content-related discussions) or by emailing [email protected] (recommended for technical issues).