At the start of the 2013-14 European club season we presented league projections for over 30 competitions throughout the world.  We repeat the process as the spring-to-fall leagues kick off, starting with Major League Soccer.
I thank Aaron Nielsen for his work in creating expected goals for all of the teams in the league and for his permission in allowing me to use his figures.  (You should go to RedNationOnline and read his team-by-team previews; they're very good.)
If you want a quick backstory of what I did, I took the expected goal figures and used the Pythagorean expectation to generate expected wins, losses, and draws, and of course the expected point total.
Eastern Conference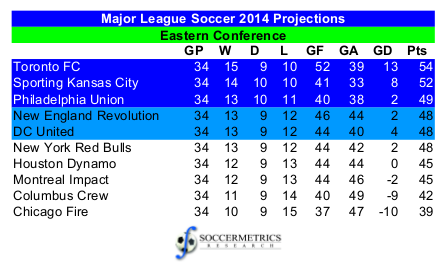 We predict that Toronto FC's offseason buys will propel them into top spot in the Eastern Conference over the champions Sporting Kansas City and Philadelphia Union, although several clubs could challenge the Union for third spot such as New England, DC United, and New York Red Bulls.  The Chicago Fire could overperform their expected point total if Mike Magee continues his MVP performance from last season (unlikely), but they appear to be some distance from the top five.
Western Conference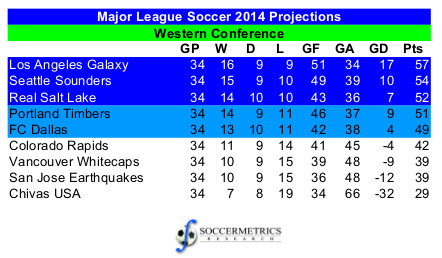 LA Galaxy's team is aging, but they might have enough talent to overcome Seattle, RSL, and Portland in a very competitive Western Conference.  All of them are in retooling stages in one way or another (to a lesser extent that's true for Portland), so there could be some volatility in the table as the season progresses.  FC Dallas sit a little further back in fifth spot and the rest of the Conference sides follow.
Overall Table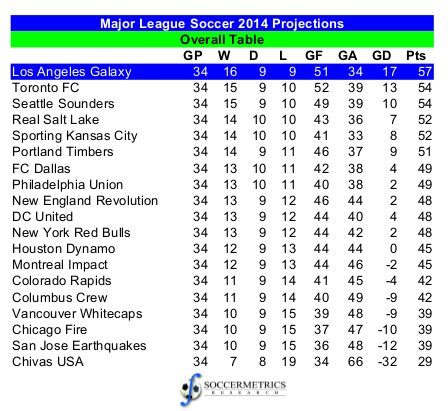 Overall we project the LA Galaxy to win the Supporters' Shield for the fifth time in their history.  If their players are healthy and motivated and Bruce Arena is able to get more performance out of some players who weren't always available last season, they could finish in top spot.  Of course in MLS the differences between the top teams — or even the differences between the top teams and those missing the playoffs — is not very great, so expect some unexpected outcomes to the league season.