It's now 2019 and the opening stages of the 2019 Copa Libertadores start in three weeks, but let's take a look back at the 2018 competition, which didn't end that long ago. It started with 47 teams, developed into a two-country race, and ended in a mouthwatering and compelling but ultimately depressing and farcical Superclásico final. What a way to end the era of two-legged finals and, effectively, start the new era of neutral-site finals.
The Cup gets older
The Copa Libertadores has become a competition composed of older players who either stayed in South America or returned from elsewhere.
I'm not the first person to make this observation; in fact, Tim Vickery, in his article on Major League Soccer becoming the new preferred destination for South American talent, has written the same thing. When I look at the list of my combined expected goal/assist figures for this season's competition, all but three of the top ten players are under 27 as of last December 31: Juan Fernando Quintero (25), Maximiliano Meza (26), and Gonzalo "Pity" Martínez (25). Only three of the top 20 players are 23 or younger: Rafael Borré (23), Everton (22), and Exequiel Palacios (20).
A number of these players are already on the way to lucrative contracts abroad — Quintero is actually on the books at Porto, River are expected to receive a formal bid from Real Madrid for Palacios, Meza has already left for Monterrey, and Martínez is expected to join Atlanta United. But the previous three South American Footballer of the Year winners haven't received much interest from European clubs and remain in South America (albeit some of the richer clubs in the region).
Most of the domestic competitions in South America are composed of older talent that either returned from abroad or wasn't quite good enough to land the big money contract from Europe. So it's not surprising that the most prestigious club competition in South America would mirror developments in the individual countries. Maybe we're returning back to the days when Copa Libertadores squads skewed older, but a deeper dive is required to find out if those days even existed.
The last one standing
At the end of a final series that left a bitter aftertaste because of events away from the stadiums, River Plate won their fourth South American club title. Yet it was a series that either side felt that they could have won and should have won.
The bare facts tell the story: River Plate defeated Boca Juniors 5-3 on aggregate after extra time of the second leg, with the fifth goal an empty-net goal by Pity Martínez in the dying seconds of the extra time period. In terms of expected goals, River had a +0.32 edge over the series and didn't pull ahead until the decisive second extra time period.
Both sides saw their respective talents play substantial roles. Boca's best chances were more likely to come from Sebastián Villa and Darío Benedetto. Villa has been consistently excellent at serving set pieces to dangerous areas over all competitions, and he remained excellent in the final, accounting for almost half of Boca's expected assist production (as calculated by Soccermetrics' expected assist model). Benedetto scored twice and created one dangerous opportunity via a set-piece on his way to the second highest expected score (0.70 xA + 1.00 xG) of any player in the final. River's most productive player over two legs, by a considerable margin, was Pity Martínez. He was more of a creative force than a scoring threat in the first leg (0.45 xA + 0.17 xG), and reversed that in the second leg (0.33 xA + 0.55 xG).
At the same time, both teams has chances to change the tie at vital moments. Lucas Martínez Quarta had two excellent chances (River's best chances, according to Soccermetrics' expected goals model) to score in the first leg, from almost identical positions on the field, and missed them both. Benedetto had a glorious 1-on-1 effort that was just as gloriously saved by Franco Armani. Naithan Nández had a chance early in the second leg. Leonardo Jara hit the post late in extra time.
In the end, the final was decided by a match-changing and ultimately Cup-winning substitution of Juan Fernando Quintero for Leonardo Ponzio. Working on the right flank, Quintero combined with Ignacio Fernández who then laid off for Lucas Pratto to score the equalizer. And after Wilmar Barrios was sent off, Julián Álvarez, Martínez, and Quintero came to life as goalscoring threats and the latter two ended up converting.
The best of the knockout phase
It was rude of me to reference a chart that I hadn't presented yet, so here it is. Most of the names who are among the top 15 xG+xA creators in the knockout rounds were representing River and Boca. Grêmio, the outgoing champions, had three players in the top 15: Jael — who led with 2.07 xA and 2.97 xG, Alisson, and Everton. Thiago Neves of Cruzeiro was a creative and attacking threat from central positions. Luís "el Pulga" Rodríguez has been a legend for Atlético Tucumán across all competitions, and generated a lot of opportunities without much reward in the knockouts. Meza also distinguished himself on the right flank for Independiente.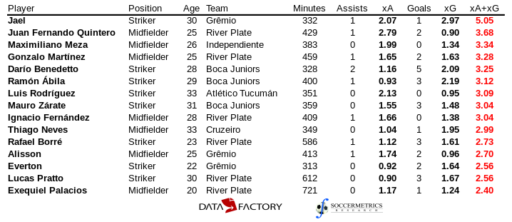 But the knockout stages of this year's Libertadores belonged to the players who once again demonstrated that they are big players for big games: Benedetto and Ábila for Boca, Quintero and Martínez for River. And in the final, River's individual talent made the difference.
Match data used in this post has been supplied by DataFactory Latinoamérica.