Superliga 18/19 Record
Won 10, Drawn 8, Lost 7 (38 points)
Superliga 18/19 Position
7th
Relegation Average
1.670 (137 points/82 matches)
Relegation Position
5th
Copa de la Superliga Result
Lost in First Round to Argentinos
Juniors (3-4 agg)
Goals Scored
(own-goals not included)
34 (24 open, 6 set-piece, 4 penalty)
Goals Allowed
(own-goals not included)
27 (17 open, 4 set-piece, 6 penalty)
Leading Goal Scorer
Emmanuel Gigliotti (12 goals)
Leading xG
Emmanuel Gigliotti (7.29 xG)
Leading xA
Nicolás Domingo (2.64 xA)
Primary Goalkeeper
Martín Campaña
(1.04 GA/90, +2.7 GAAx)
Team Disciplinary Record
58 yellows, 7 reds
A successful season that ends with another participation in the continental competitions in 2020, but one that could have been much more. Independiente never really recovered from the sale of Emmanuel Gigliotti, and their defense let in too many goals for them to move into the Libertadores zone. Seven red cards were also way too high.
Managers: Independiente were one of nine Superliga clubs that had just one manager for the entire 2018/19 season. Ariel Holan had been with the club since late 2016 and remained in charge of the first team until he stepped down in May. Under his leadership in 2018/19, Independiente performed 3.2 goals ahead of expected performance, primarily by allowing fewer goals than the expected goals metrics would indicate. From the eighth matchday onward, Independiente would end the matchweek outside the top ten just once. Holan made 94 squad rotations in his matches, the second-most among the nine managers who were present for all 25 matches.
Formations: Holan preferred to use two formations: either the 4-2-3-1 or an attacking 4-3-3. The 4-2-3-1 was seen more in the first half of the season, with Nicolás Domingo, Pablo Pérez, and Pablo Hernández forming a triangle in midfield. Here is an example of that formation in action during Independiente's match against San Martín (Tucumán). Coincidentially, this was the lineup that appeared most often in Holan's matches this season at 104 minutes played.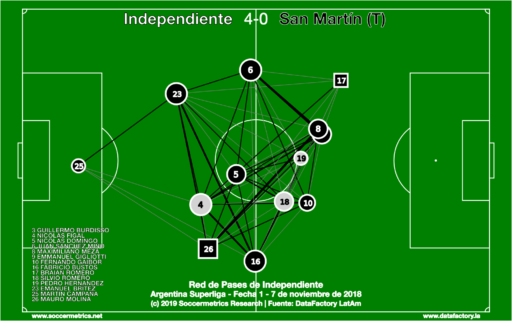 The 4-3-3 formation appears more often in the 2019 half of the season, when Gigliotti has already left, but the midfield triangle of Domingo, Pérez, and Hernández remains. In the passing network of San Martín (San Juan) vs Independiente, the starting lineup is very compressed, on average. The stated formation doesn't become apparent until after the substitutions.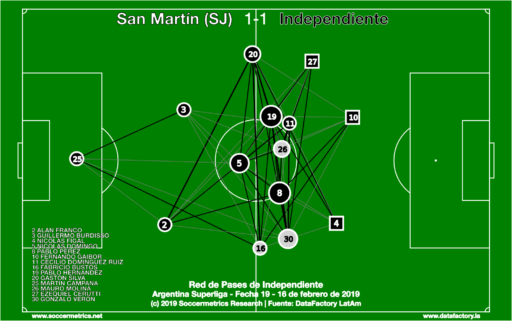 Expected Play: Independiente had decent expected goal statistics in attack and defense, but breakdowns by specific plays showed strong disparities. El Rojo ranked sixth in the Superliga with 1.28 xG/90 (0.67/0.42/0.19) and ninth with 1.13 (0.61/0.37/0.16). In open play scenarios, Independiente were average to slightly above-average — 8th best offensively, 12th best defensively. In set plays and penalties, the differences were starker. El Rojo ranked 20th in xG/90 from set-pieces, but fourth in xGA/90 from similar plays. Independiente were second-highest in xG/90 from penalty kicks, but third-worst in xGA/90 from penalties. They were awarded and they conceded the most penalties in the division, but only managed to convert 4 from 8. Opponents converted all but one of the seven penalties given.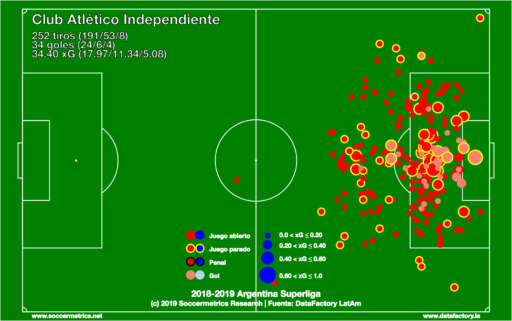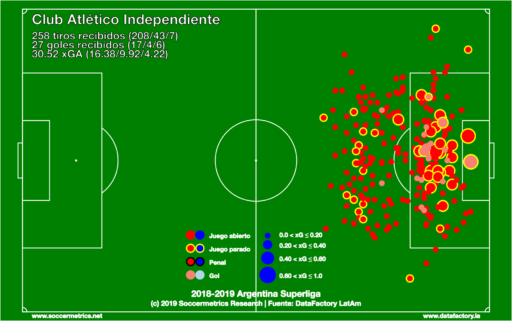 The team leader in expected goals was, by a considerable margin, Emmanuel Gigliotti, with 7.29 xG and 12 goals. The amount of opportunities that he created from open play were more than double that of his closest colleague, Martín Benítez. Recall that this is a player who was sold to Toluca in January! Nicolás Figal, a defender, created more xG from set-pieces, followed by Gigliotti, Pablo Pérez, and Guillermo Burdisso.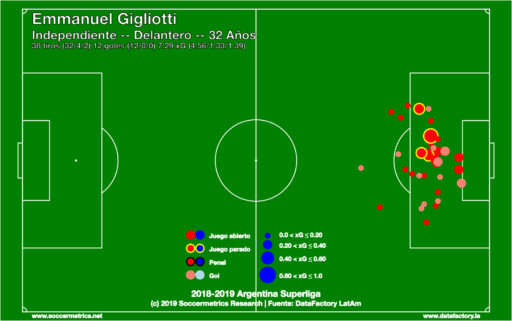 Nicolás Domingo led Independiente in expected assists with 2.64 xA, all of them from open play in that deep-lying position. Fernando Gaibor and Juan Sánchez Miño were the leading players in expected assists from corners and free kicks.
Martín Campaña was el Rojo's preferred goalkeeper during the season. He played for 2332 minutes, allowed 1.04 goals per 90 minutes, and conceded 2.7 more goals than expected. His five clean sheets were the fewest of any goalkeeper who played more than 900 minutes and conceded better than 5.0 goals above expected. Milton Álvarez played just 96 minutes, but achieved a clean sheet in his lone appearance and conceded one fewer goal than expected.
Best Match: The 3-0 win against Colón on matchday 5. You could also choose the 4-0 result against San Martín de Tucumán; it's really a toss-up.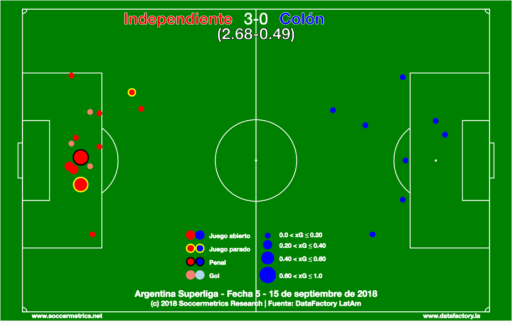 Worst Match: The 3-0 loss to River on matchday 23. El Rojo allowed more goals in one other match, but that was actually a back-and-forth affair that broke against Independiente late. This match also broke late, but more emphatically.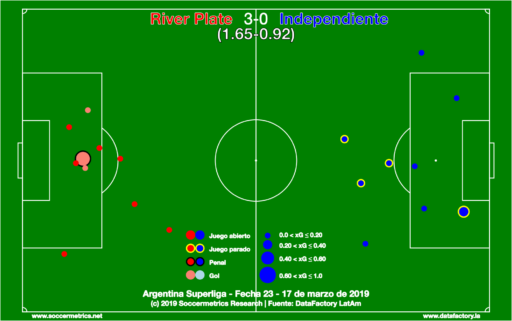 Best Player: I'm going to do something unique and select best players for Independiente's season in 2018 and their season in 2019. For the 2018 part of the season, there is no doubt that the best player is Emmanuel Gigliotti. For 2019, the best player from a middling bunch is Martín Benítez, who was among the leading players in expected goals and assists.
This review has been prepared with match event data supplied by DataFactory Latinoamérica.